Brigette Lobacz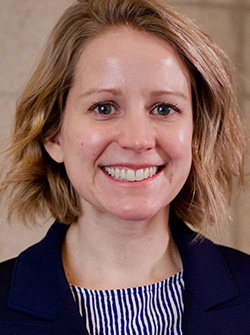 Director of the Center for Legal Studies and Attorney
Bradley Hall 239
(309) 677-4186
blobacz@bradley.edu
Biography
Brigette Lobacz, Director of the Center for Legal Studies, practiced law for thirteen years before transitioning to academia. Throughout her practice, she continuously noticed the substantial impediments to justice for those who lack a lawyer's guidance - not only in litigation, but in everyday legal matters. Legal knowledge, both substantive and procedural, should be readily available to the citizenry - however, access to this knowledge, and the people who hold it, is often restrained from those who need it most. While there are many avenues to address this concern, Ms. Lobacz realized she had the skills to focus on two:
Encouraging legal acumen among those who are interested in law, but do not necessarily plan to enter the legal field. As such, the academic pursuits of each student of the law is of the utmost importance to her regardless of whether they intend to pursue a career within the field.
Mentoring, encouraging, and developing future servants of the civil and criminal justice systems and officers of the courts. As a first-generation student, Ms. Lobacz did not realize that resources were available to her in the rigorous world of applying and preparing for law school. She honors the curiosity and academic pursuits of each student by guiding them in developing an individualized, methodical path to law school if they choose to pursue a Juris Doctorate.
Ms. Lobacz empowers and assists students to discern whether a legal career is the right choice for them, choose classes within Bradley's diverse curriculum to pave their way toward greater legal knowledge and abilities, devise LSAT preparation plans, draft their personal statement, complete their law school applications, match with internship providers that are within their specific areas of interest, and choose which law schools may be a fit for them.
Prior to becoming the Director, Brigette Lobacz had a diverse civil practice representing buyers and sellers in business asset transactions, commercial real estate transactions, and residential real estate transactions; advising entrepreneurs in a myriad of issues including initiating corporations and limited liability companies; drafting plans for simple and complex estates (such as wills, trusts, and powers of attorney); administering probate and non-probate estates; negotiating and litigating real estate disputes; representing creditors and debtors regarding the collection of debts; representing mortgagees and mortgagors in foreclosures; representing landlords and tenant in evictions; and representing caregivers through adoption and guardianship proceedings. She has been a pro bono volunteer for Prairie State Legal Services and the Public Interest Law Initiative (PILI). She is a member the Illinois State, Tazewell County and Peoria County Bar Associations as well as the Abraham Lincoln Inn, Peoria. She is currently an active member of the board of directors for Soulside Healing Arts in Peoria, Illinois. In recent years, she has served on the board of the Pekin YWCA and held leadership positions within the Pekin Sunset Kiwanis Club.
Ms. Lobacz is originally from Olney, Illinois – a rural community at the Southeastern edge of Illinois. While earning her Bachelor of Arts in Speech Communications from Eastern Illinois University (2005, cum laude), she developed her ability to communicate accurately and concisely. While earning her Juris Doctorate from Southern Illinois University School of Law (2009), she volunteered with Land of Lincoln Legal Assistance and was employed by SIU Students' Legal Assistance. She honed her legal acumen as an associate attorney at the Brainard Law Offices in Charleston, Illinois. In 2012, she joined the law firm of Moehle, Swearingen & Lobacz, Ltd. (now known as Moehle Law Firm) and became an owner thereof in 2016. In 2022, she became the Director of the Center for Legal Studies and Bradley University.