Amy Fairfield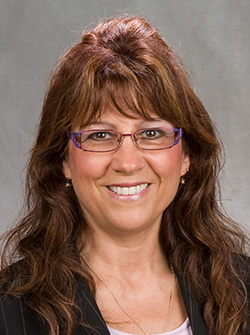 Undergraduate Recruiting Coordinator
Business and Engineering Convergence Center 2139
(309) 677-2295
afairfield@bradley.edu
D.B.A., University of Wisconsin-Whitewater
M.B.A., Bradley University
B.S., Finance, Bradley University
Biography
Amy Fairfield received both her bachelor's and MBA degrees from Bradley University. Upon graduation, she worked as a General Securities Representative (Series 7 and 63 exams) as well as a General Securities Principal (Series 24 exam) to develop a new securities exchange. Amy subsequently returned to Bradley and has been an instructor in the Department of Finance and Quantitative Methods since 1999. In 2012, Amy accepted a new assignment as Undergraduate Recruiting Coordinator for the Foster College of Business. As such, she serves as liaison to the university admissions and recruitment staff as well as actively promotes the College's undergraduate opportunities to prospective students and parents, plans and implements recruiting events, and initiates new ideas and methods of recruiting, to effectuate the Foster College of Business' enrollment plan.
Prior to her recruiting position, Amy served as Director for the Assurance of Learning program in the Foster College of Business where she provided planning and oversight toward the maintenance of the college's AACSB Accreditation. The Association to Advance Collegiate Schools of Business (AACSB) is the premiere business education accrediting body in the world, assuring quality and promoting excellence and continuous improvement in undergraduate and graduate education for business and accounting. Amy was instrumental in achieving a successful reaccreditation at the review in 2011.
Amy previously directed Project Springboard, the student new venture competition.
Teaching
Quantitative Analysis I (QM 262)
Quantitative Analysis II (QM 263)
Business Finance (FIN 322, in London)
Investment Analysis (FIN 325)
Service
Financial Management Association: current member
2016 – Present: Foster College of Business Financial Management Association, Co-Advisor
2016 – Present: Bradley University Center for Teaching Excellence and Learning, Advisory Board Member
2016 – Present: St. Jude Catholic Church, St. Vincent de Paul Society, Team Leader
2007 – 2015: Dunlap Community Unit School District, Board Member, served as President and Vice President
2007 – 2008: Journal of Financial and Economic Practice, Co-Editor
Fall 2007 – Spring 2009: Bradley Competitive Dance Team, Advisor