Amita Bhadauria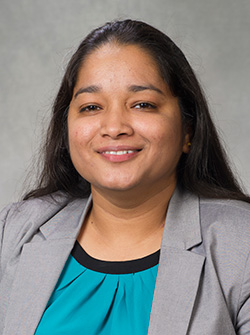 Assistant Professor, Marketing
Business and Engineering Convergence Center 4154
(309) 677-2261
abhadauria@bradley.edu
Ph.D., Marketing, University of Wisconsin – Milwaukee
MBA, University of Wisconsin – Milwaukee
MA, Social Work – University of Lucknow, India
BA, Economics, English Literature and Psychology – University of Lucknow, India
Biography
Amita completed her PhD in 2016 and her MBA in 2010 from the University of Wisconsin, Milwaukee. She joined the marketing department at Bradley University in 2016.
Teaching
Amita believes that teaching is a commitment to disseminate knowledge and an excellent opportunity to make a valuable contribution to society. She finds marketing to be an exciting discipline which enables her to be an interesting and efficient teacher. She appreciates the uniqueness of her students and strives to cultivate a learning environment that facilitates critical thinking and excellent performance. She combines her professional experience with the marketing concepts to deliver an engaging lecture. Her work experience in the field of market research and at the online advertising division of Google allows her to share her real-world experience with students and make the marketing concepts stimulating. She has taught diverse marketing courses including Consumer Behavior, Principles of Marketing, Social Media Marketing, and Integrated Marketing Communications. She also supervises independent research studies for the students.
Current courses:
Integrated Marketing Communications – MTG 381
Principles of Marketing – MTG 315
Independent Study in Marketing – MTG 492

Scholarship
Amita's primary area of research is consumer behavior with a focus on diverse topics such as binge watching, prosocial behavior and the cruise industry. Her current research focuses on underexplored areas of binge watching such as a cross cultural scale development, repercussions and positive aspects, cross cultural practices and consequences. Furthermore, she is exploring the role of binge watching as a coping mechanism during the COVID 19 pandemic.
Peer Reviewed Journal Publications and Presentations
Bhadauria, A., Bhatnagar, A., & Ghose, S. (2020). Do Underlying Physical Specifications of a Servicescape Matter? The Case of the Cruise Industry. Services Marketing Quarterly, 41(2).*(forthcoming)
Deng, X., Yang, X., & Bhadauria, A. (2019). Does Mere Exposure to Beauty Related Words Promote Prosocial Behavior? Exploring the Mental Association Between Beauty and Prosociality. Journal of the Association for Consumer Research, 5(1).
Bhadauria, A., Muncy, J., & Iyer, R. (2019). Binge Watchers, Media Marathoners, and the Multi-Episode Consumption of Media Content. Association for Consumer Research Conference (2019).
Bhadauria, A., Bhatnagar, A., & Ghose, S. (2014). Role of Geography in the Relative Salience of the Antecedents of Cruise Passengers' Satisfaction. International Journal of Marketing Studies, 6(2).
Bhadauria, A., Bhatnagar, A., & Ghose, S. (2014). Demographic Segmentation of the Cruise Industry. Global Journal of Management and Business Research, 14(3).