First Destination Study Executive Summary
2015 - 2016 Baccalaureate Graduates
94% of baccalaureate graduates are employed or continuing their education. (95% knowledge rate)
197 baccalaureate graduates - knowledge of 187
11 graduates are continuing their education at 9 institutions
100% participated in experiential learning
79% reported internship or practicum
Baccalaureate graduates are employed at 130 different companies.
130 employers hired our 2015-2016 baccalaureate graduates across 16 states and 1 country
Companies employing 3 or more students:

Caterpillar Inc.
Enterprise Rent-A-Car Company
PricewaterhouseCoopers (PwC)
Sherwin-Williams Company

Salary Offers Range $18,720 - $71,052
CAREER OUTCOMES HIGHLIGHTS: Of the 23 degree tracks offered within the Foster College of Business, 14 of these tracks achieved a 100% career outcomes rate. Over 130 employers hired these business students across various states, regions, and countries. Employers who hired 3 or more of our business graduates include Caterpillar Inc., Enterprise Rent-A-Car Company, PricewaterhouseCoopers, and Sherwin-Willams Company. These results can be attributed to the institution's ability to maintain a quality, experiential learning environment across every business degree program.
Internships
EXPERIENTIAL LEARNING OUTCOMES: Graduates had a strong experiential learning rate of 100%. Every senior business student undertakes the Senior Capstone project. Experiential learning occurs in a variety of courses, including: Co-op/Internship in Business, Business Practicum, Strategic Management in Organizations, Independent Studies, Semi- nars, Marketing Research II, Experiential Learning in Professional Sales, Study Abroad, etc. Some of the top internship employers reported to the Smith Career Center include: Caterpillar Inc., CliftonLarsonAllen LLP, Enterprise Rent-A-Car Company, PriceWaterhouseCoopers LLP, RLI Corporation, Target Corporation, Zurich Financial Services, etc.
Baccalaureate graduates interned at 152 different companies.
ABN AMRO Clearing
Advanced Correctional Healthcare Advanced Media Partners
AdvaStaff
Advocates for Access
AIG
AIIA
Alpha Media LLC
Alzheimer's Association, Central Illinois Chapter
American Red Cross
Ameriprise Financial Services, Inc. Anne Bartolo, Attorney at Law ARAMARK
Arango Cigar Co.
Archer Daniels Midland Company Associated Bank
Atlas Financial Holdings, Inc.
Baker Tilly Virchow Krause, LLP Benjamin F. Edwards
BioBlend Renewable Resources, LLC Blackshor Services
Blue Chip Marketing Worldwide Bradley University
Brandt Consolidated, Inc.
Bruce Jewelers
Calvo Law Offices, P.C.
Camp Big Sky
Caterpillar Inc.
Cedar Hill Associates
Celebrity Focus, Inc.
CGN Global
Charles Schwab
CliftonLarsonAllen LLP
Closed Sessions
ConAgra Foods, Inc.
COUNTRY Financial
CSE Software Inc.
Cullinan Properties, Ltd.
Curves
Deere & Company
Delta Flexible Products
D-LAB Nutricosmetics
Eco-Solutions Window Service, Inc. Edward Jones Investments
Enterprise Rent-A-Car
EP!C
Exelon Corporation
Exit Strategy Realty
Family Chiropractic Health & Nutrition Farmers Insurance
Fiskars Brands, Inc.
Float Mobile Learning
Fresenius Kabi
G&M Apartments
Gold 18k N.A.
Goodman Network
Gorenz and Associates, Ltd.
Greater Peoria Economic Development Council Habitat for Humanity of Greater Peoria HNI | HON | Allsteel
Hy-Vee, Inc.
Identity Dental Marketing Illinois Junior Golf Association Illinois Mutual Life Insurance Interactive Data
J. D. Factors Jackson Hewitt Tax Service, Inc.
Jump Trading Simulation and Education Center
Khoury's Cuisine
Larry Hupp Farmers Insurance
Liberty Bank
Little Caesars Pizza
LOGS Network
Marquette Group
Martin & Shadid CPA's, P.C.
Maui Jim, Inc.
McGladrey LLP
Mcomm Group, Inc.
Merrill Lynch
MHI and MHEDA
Midwestern Securities Trading Company, LLC
Mike Miller Auto Park
Modern Luxury
Mondani Handbags
Morgan Stanley
Motorola Solutions, Inc.
MultiAd
MyWay Logistics
National Energy Control, LLC
Northstar Financial Services Northwestern Mutual
OSF HealthCare System
OSF Saint Francis Medical Center
Pace Systems, Inc.
Pearl Companies
Pekin Insurance
Peoria Area Chamber of Commerce Peoria Area Convention & Visitors Bureau Peoria Chiefs Baseball Club
Peoria Riverfront Museum
Peoria Rivermen Hockey Club
Peoria Tri-County Planning Commission Petersen Healthcare, Inc.
Pinnacle Actuarial Resources, Inc.
Populus Group
Porte Brown
Prairie Center of the Arts
Preferred Home Health Care Hospice PricewaterhouseCoopers LLP PrivateBancorp Inc.
Property Title & Escrow, LL
Public Image Partnership
RLI Corporation
Ronald L. Henderson, CPA
Rubin Brown LLP
SanDisk
Sangamon County Circuit Clerk Sherwin-Williams
Shrewsbury Family Aquatic Center Silverback Networks Inc.
Simformotion LLC
Sitka Salmon Shares
Six Flags Great America
Sko-Die, Inc.
Social Edge Advisors
Southern Illinois University School of Medicine
Standard Bank and Trust Co.
State Farm Insurance - Scott Thulean Agency
State Farm Insurance Company
Steel House Tee's
Stevens & Tate Marketing
Sunday Seconds
Supply Chain Services International - SCSI Target Corporation
Taylorville Community Credit Union TechGraphic Solutions
Tellefsen Law
Tenneco Inc.
The Buckle
The Pipco Companies Ltd.
Tovar Snow Professionals
Tri R Distribution
U.S. Congressman Darin LaHood
United Airlines
Village of Grayslake
Vonachen Services Inc.
Walters Brothers Harley-Davidson
Weed Man Lawn Care
Westervelt, Johnson, Nicoll and Keller, LLC Wingate by Wyndham
Ying's Kitchen
Zurich Financial Services
Employers
AAR Corporation
Acuity Insurance
Advanced Technology Services (ATS) Allison+Partners
Allstate Insurance Company
Amazon, Inc.
Anixter International Inc.
AON Corporation
Archer Daniels Midland Company (ADM)
Arizona Beverage Company
Arlington International Racecourse Ascension Health Ministry Service Center
Baker Tilly Virchow Krause, LLP
Bank of America
Bank of America Merrill Lynch
Blue Chip Marketing Worldwide
C.H. Robinson
Campus Outreach
Canon Solutions America
Caplis Enterprises Inc
Caterpillar Inc.
Celebrity Focus, Inc.
Centene Corporation
Chicago Zoological Society / Brookfield Zoo
Chubb Group of Insurance Companies
Circle 8 Logistics
Cision
City of St. Louis Police Department Civitas Learning
CliftonLarsonAllen LLP
Coldwell Banker Devonshire Realty Command Transportation
Costco Wholesale
Council on International Educational Exchange (CIEE)
COUNTRY Financial
Cumulus Media, Inc.
CVS Caremark
Dayton Freight Lines, Inc.
Deere & Company
Deloitte & Touche LLP
Dental Arts Laboratories, Inc. Easter Seals Central Illinois Eide Bailly LLP
EMC Corporation
Enterprise Rent-A-Car Company Essendant, Inc.
Ferring Pharmaceuticals Fleming & Umland
FOCUS
Follett Corporation
FTD Companies
Gardant Management Solutions GEICO
General Growth Properties
Griffith Foods
Health Credit Services
Heinold Banwart, Ltd. Hewlett-Packard Co.
HNI Corporation (HON Company) HNI|HON|Allsteel
Holiday Inn & Suites Peoria at Grand Prairie
Illinois Department of Transportation (IDOT)
Illinois State Black Chamber of Commerce
Impact365
Jackson Family Farm
Jump Trading Simulation and Education Center
KeHE Distributors, LLC
Keller Williams Realty Chesterfield Kforce Inc.
LaHood Construction, Inc.
Little Caesars Pizza
Maui Jim, Inc.
May, Cocagne & King, PC
Merheb Surgical Arts
Milwaukee Brewers Baseball Club Mindstream Interactive
Minnesota FC Soccer Club
Morton Community Bank
Nitel
Office of the Comptroller of the Currency (OCC)
Omnitracs, LLC
Optomi, LLC
OSF HealthCare System
Patten CAT
Pearl Companies
Pekin Insurance
Penske
Peoria Chiefs Baseball Club
Peoria Riverfront Museum
PetSmart, Inc.
PNC Bank
Porte Brown LLC PricewaterhouseCoopers (PwC) PrivateBancorp Inc.
RLI Corporation
RPM Advertising
RSM International
Salvation Army
Saputo Inc.
Schaumburg Business Association Sherwin-Williams Company
Sikich LLP
SIM Partners-Velocity
Simply Smart Technology
Sitka Salmon Shares, LLC SmithBucklin Corporation
State Farm Insurance
Stratus Networks
Supply Chain Services International - SCSI
Takeda Pharmaceuticals North America, Inc.
Target Corporation
The Horton Group
The James Project
The Pipco Companies, Ltd.
U.S. Navy
VMware
Vonachen Services Inc.
Walmart Stores, Inc.
Walters Brothers Harley-Davidson Warby Parker
WhiteWave Foods Company
Whiting Corporation
Yelp
ZS Associates Inc.
Zurich North America
Position Titles
Account Executive Account Manager Accountant
Accounting Associate Actuarial Analyst Application System Analyst Area Manager
Assistant Manager
Assistant National Bank Examiner Associate IT Engineer
Associate Product Specialist Assurance Associate
Audit Assistant
Audit Staff
Auditor
Auditor/Internal Audit
Benefits Service Associate Branch Sales & Service Representative
Brokerage Associate
Business and Society Program Assistant
Business Development Associate Cash Management Analyst Catastophe Risk Analyst
Client Service Representative Client Success Analyst Coordinator
Contracts Representative Corporate Loan Review Analyst
CPA
Customer Specialist
Data Integrity Analyst
Digital Ad Operations
Executive Assistant
Executive Team Leader
Financial Account Manager Financial Advisor
Financial Analyst
Financial Control Specialist Financial Management Associate General Manager
HR Associate
HR Coordinator
Independent Sales Representative Inside Sales Representative Intern/Social Media Manager Internal Audit - Staff
Inventory Accountant
Inventory Planning Manager
IT Analyst
IT Specialist
IT Systems Administrator Associate Jr. Sales/Marketing Specialist Lease Accountant
Marketing & Events Assistant Marketing Representative Marketing Specialist
Material Planner
Measurement Analyst
Media Assistant
Member Services Assistant
National Account Representative Operations Supervisor
Order processing specialist Organizational Change Management Practitioner
Outside Sales Representative Pricing Analyst
Programming Assistant
Project Analyst 1
Project Manager and Estimator Project/Business Analyst
Risk Assurance Associate
Sales and Marketing Specialist Salesman
Solutions Account Associate
Supply Chain Analyst
Supply Network Analyst
Support Manager
Talent Specialist
Tax Associate
Tax GHRS Specialist
Technical Support Engineer Underwriter
Visitor Services Manager
Website and Social Media Coordinator
Foster College of Business Last Five Year Retention Rates
(First-Time Freshmen from Previous Year)
Foster College of Business 4-yr Graduation Rates
(2012-2016)
Foster College of Business 5-year Graduation Rates
(2012-2016)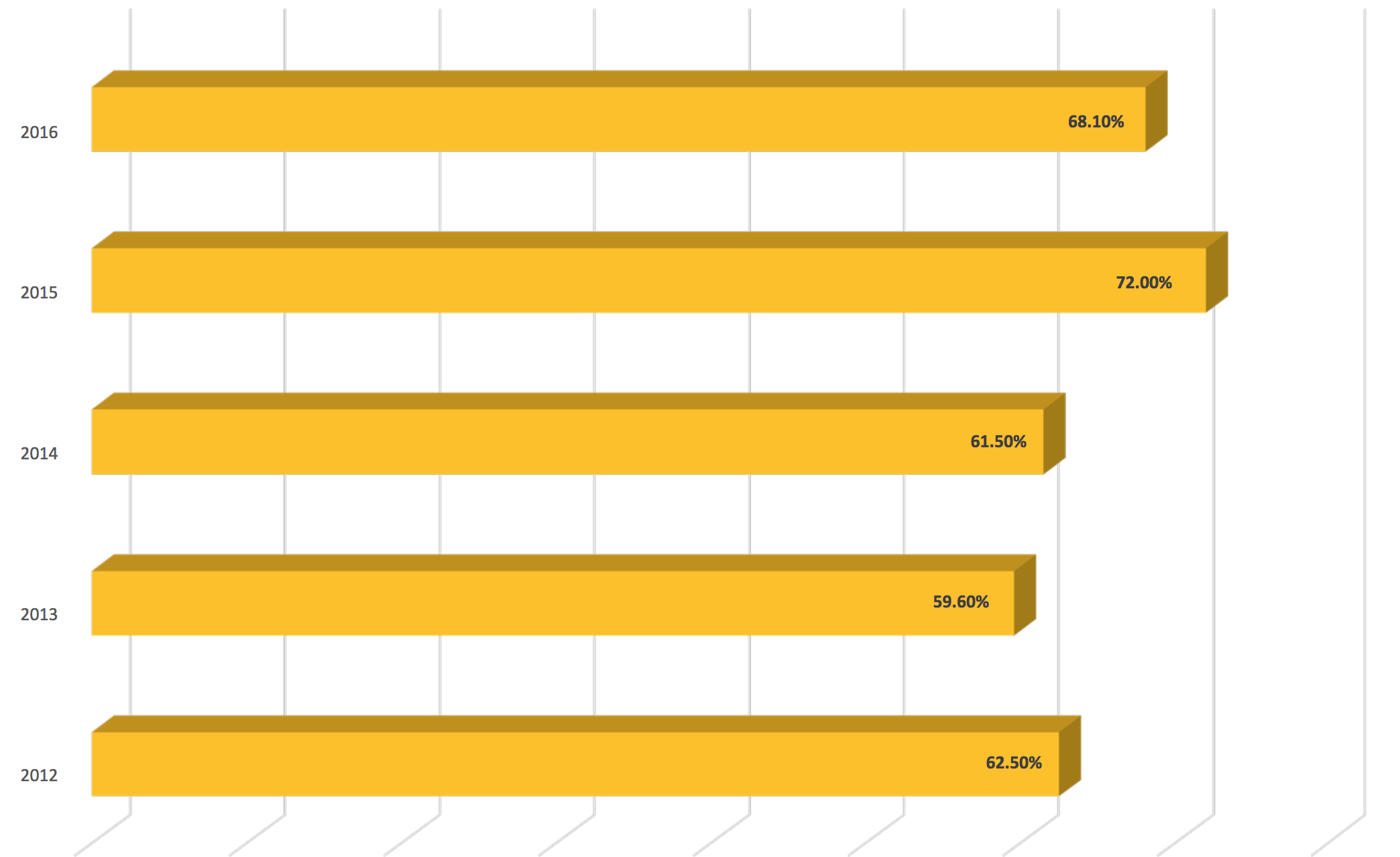 Foster College of Business 6-year Graduation Rates
(2012-2016)