Christopher Jones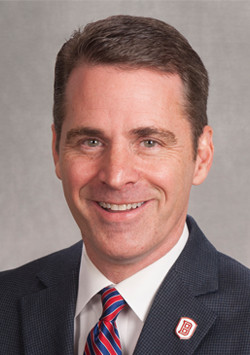 Dean and Professor
Bradley Hall 226A
309-677-2380
cmjones@bradley.edu
Ph.D., Political Science, Syracuse University
M.A., Political Science, Binghamton University
B.A., Political Science, Binghamton University
Biography
Christopher M. Jones was appointed Dean of the College of Liberal Arts and Sciences in June 2014. As the chief academic and administrative officer of Bradley University's largest and most intellectually diverse college, Dr. Jones leads 150 faculty and 20 staff members across 13 departments and nearly 60 undergraduate and graduate degree programs, spanning the humanities, social sciences, natural sciences, and computational sciences.
The College delivers 80 percent of the Bradley Core Curriculum, administers the Military Science Program, and offers a rich array of engaged learning opportunities, including faculty-mentored research experiences and faculty-led study abroad programs. The College also maintains strong partnerships with the University Honors Program, Center for Legal Studies, Health Professions Advising Center, STEM Education Center, Academic Success Center, and several other units and divisions on campus.
During Dr. Jones's deanship, the College of Liberal Arts and Sciences has developed an ambitious strategic plan and a corresponding implementation plan, adopted a new mission statement, undergone an external review of all its major programs, implemented a new general education program, and formulated its first-ever enrollment management strategy and first-ever development plan. The College has also launched a First-Year Seminar Program, an externally funded Summer Research and Artistry Fellowship Program, a Global Living and Learning Community, and an annual Celebration of the Liberal Arts and Sciences Week. Other achievements have included the development of a highly effective dean's office administrative team, welcoming several new faculty members to the College, and ongoing efforts to tackle issues related to faculty workload, tenure and promotion, and gender equity. There have been several initiatives to advance student success, promote global education, and develop exciting new curricula.
At Bradley, Dr. Jones's leadership experience includes serving as the Deans' Representative to the University Strategic Planning Committee, which was responsible for developing the University's current strategic plan and program prioritization process. He was also the Deans' Representative on the Gender Equity Taskforce. Before coming to Bradley, Dr. Jones served as Dean of the College of Arts and Sciences at Le Moyne College. At Northern Illinois University (NIU), he directed the University Honors Program across six colleges and served as Chair of the Department of Political Science.
Dr. Jones is a professor of political science. His teaching and scholarly specialties are U.S. foreign policy and national security policy with an emphasis on the domestic determinants of such policies. His 30-plus publications and more than 50 presentations have examined a range of subjects. He is a two-term, past president of the Foreign Policy Analysis Section of the International Studies Association.
Dr. Jones is also an accomplished teacher. At NIU, he was a recipient of the Excellence in Undergraduate Teaching Award, the University Honors Great Professor Award, and the Outstanding International Educator Award. In 2013, he was named a Presidential Teaching Professor, NIU's most distinguished teaching honor. Dr. Jones has been recognized for teaching excellence by the American Political Science Association, the National Political Science Honor Society, and student organizations. In 2013, he received a national faculty award for excellence in international education. At Bradley, Dr. Jones teaches U.S.-British Relations as part of the London Study Abroad Program.
Dr. Jones earned his B.A. and M.A. in Political Science at Binghamton University, State University of New York where he was inducted into Phi Beta Kappa. He holds a Ph.D. in Political Science from The Maxwell School of Citizenship and Public Affairs at Syracuse University. Dr. Jones has completed Harvard University's Institute for Management and Leadership in Education.