Libby Tronnes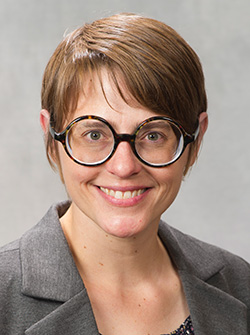 Assistant Professor
Bradley Hall 347
(309) 677-2399
ltronnes@bradley.edu
Ph.D., History, University of Wisconsin-Madison
M.A., History, University of Wisconsin-Madison
B.A., University of Wisconsin-Whitewater, Whitewater
Biography
Libby Tronnes joined Bradley University's Department of History in 2017. Her academic journey toward becoming a historian began at the University of Wisconsin-Whitewater. As a senior in college, Libby had to write a thesis. She found her topic in the trash can of a retiring history professor. Her research didn't end there, however. The discarded treasure of newspaper clippings about an armed takeover in 1975 by a group of Menominee Indian activists drew her down a rabbit hole where Libby discovered that doing the work of a historian was "fun" and meaningful. After countless more journeys full of research and writing and teaching, Libby has made her way to Peoria from her home in southern Wisconsin's Rock River Valley. As a member of the history department, Libby will introduce Bradley students to the fun, rigorous, and important work that historians do, and nudge a few of them down their own history rabbit holes.
Teaching
Courses:
HIS 305: American Indian History
HIS 307: History of the Early American Republic
HIS 203: American History to 1877
HIS 204: American History Since 1877
Teaching Themes and Interests:
Libby teaches courses on Native American History; North American West, Frontiers, and Borderlands; Colonial America, Early Republic; Antebellum U.S.; Gender and Women's History
Scholarship
Areas of Research Interest
Libby researches and writes about American Indian history with focus on the western Great Lakes. In particular, Libby's current focuses on the 1832 Black Hawk War and the central role of the Rock River Ho-Chunk in shaping that crisis, namely their attempts to keep the peace and protect their corn crop. Libby's work examines Ho-Chunk resistance to forced removals in the nineteenth century as well as their returns to Illinois and Wisconsin homelands. Broadly speaking, her work covers the American West and Borderlands, with focus on Native survivance amidst nineteenth-century settler colonialism and its inherent violence and contests over place, indigeneity, and belonging.
Current Project
Libby is working on an article entitled "Keeping the Peace: Rock River Ho-Chunks and the 1832 Crisis of Black Hawk's Return." Derived from part of her dissertation, this article seeks to correct our flawed understandings of the so-called "Black Hawk War" by reconsidering the role of the Rock River Ho-Chunks during that crisis, which began in April 1832 and resulted in Ho-Chunk land loss and removals from Illinois and Wisconsin.
Publications
"Mr. Indigenous Goes to Washington: Making Indian Law and Policy in the Twentieth Century." Review Essay of Making Indian Law: The Hualapai Land Case and the Birth of Ethnohistory, by Christian W. McMillen and Hawaiian Blood: Colonialism and the Politics of Sovereignty and Indigeneity, by J. Kehaulani Kauanui. American Quarterly, March 2012.
"Where is John Wayne?" The Menominee Warriors Society, Indian Militancy, and Social Unrest During the Alexian Brothers Novitiate Takeover," American Indian Quarterly, 2002.