Gregory Haines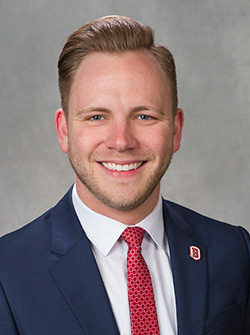 Biography
Please use Navigate to book an appointment with Greg. See the full instructions below.
Academic Advisement or Academic Coaching
To schedule a one-on-one appointment with a professional academic coach or advisor, please follow the instructions below:


Select "Academic Advising, Coaching, or Class Meetings" from the first dropdown
The next steps depend on what type of meeting you'd like to have: Academic Coaching or Academic Advising

Academic Advising: if Greg is your assigned advisor

Select "Advising in My Major/Minor"
Select "Meet with My Advisor" from the third dropdown

Academic Advising: if Greg is not your assigned advisor

Select "Select an Advisor to Meet"
Select "Academic Exploration Program" from the third dropdown

Academic Coaching

Select "Other Meetings/Services" from the first dropdown
Select "Academic Coaching" from the second dropdown

Click "Next"
Select "Academic Success Center" from the location dropdown
Clicking in the box that says "Any Advisor" should give you specific staff names, including Greg's.
Be sure to click all the way through to confirm the appointment. You will receive a confirmation email. If you did not receive this email, your appointment is not confirmed
Please call 309.677.2416 if you have any troubles booking an appointment.
Teaching
Gregory is an instructor of AEP 100, EHS 120 and ENC 381 leadership seminars.
Service
Gregory is a member of the University-Wide Assessment Team and provides training for faculty and staff around academic advising and the Navigate platform.