Demetrius Carmichael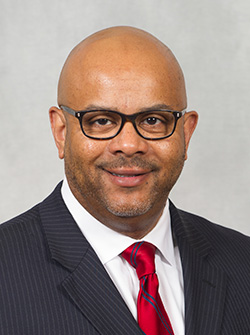 Assistant Vice President for Budgeting and Planning, Part-Time Affiliate Instructor
Swords Hall 206
(309) 677-3155
dcarmichael@fsmail.bradley.edu
M.B.A. – Saint Thomas University – 2005
B.B.A – University of Texas at San Antonio, 1992
Honorable Discharge U.S. Army -1989
Licensures and Certifications
Demetrius Carmichael serves as the Assistant Vice President for Budgeting and Planning. He provides leadership in strategic planning and budget development as well as decision support for executive leadership. The responsibility is met through compilation, analysis and dissemination of information.
Mr. Carmichael is a Certified Public Accountant who comes to Bradley with more than 15 years of experience in Higher Education and 10 years in the corporate sector. His career began in the banking industry with USAA and a military credit union. Most recently he served as Director of Finance at the University of Louisville. He has also served our nation in the United States Army for six years.
He currently serves on the Board of Trustees as Finance and Audit Committee Chair and Treasurer at the Grafton School for Behavior Health serving children, adolescents and adults with complex behavioral health challenges.