Steven Dolins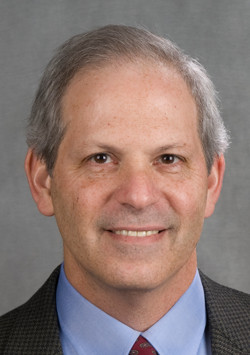 Professor
Bradley Hall 185
(309) 677-3284
sdolins@bradley.edu
Ph.D., Computer Science, University of Texas at Arlington
M.S., Computer Science, Tulane University
B.S., Physics and B.A. in Political Science, Tulane University
Biography
Dr. Dolins joined Bradley University in 2002 and he teaches the database management and capstone project courses. Prior to joining Bradley University, Dr. Dolins worked for over 17 years in industry for Hitachi America Inc. (Chief of Technical Development), ACNielsen (Senior Data Architect), and Texas Instruments Inc. (Member of Technical Staff). He was also an assistant professor at the University of Wisconsin, Parkside, for four years.
Teaching
Dr. Dolins teaches undergraduate and graduate courses in Database Management Systems and Advanced Topics in Databases. In the classroom, he uses ER Studio, Oracle 11g, Oracle utilities, and mysql. An important component of his class is working on real world data problems; he has supervised students working on a number of database projects, including building databases for provider data from the Agency for Healthcare Research and Quality, battery test data for FireFly Energy, and membership data for the not for profit Hispanic Alliance for Career Enhancement.
Dr. Dolins also teaches the undergraduate senior capstone project. For the capstone project, Bradley University has collaborated on projects with the Smithsonian Tropical Research Institute (STRI) for many years. Students designed and built a forest science database and reporting and analysis tools for STRI. The database and software tools have been deployed for over 30 plots worldwide. Two groups of students have visited Barro Colorado Island in Panama for this course. Other projects also include collaborations with the Department of Biology, the Department of Mechanical Engineering, Caterpillar Inc., John H. Stroger, Jr. Hospital of Cook County, Eli Lilly and Company.
Scholarship
Dr. Dolins has research interests in data warehousing, big data, data mining, and medical informatics. He has co-authored one book, written numerous refereed journal papers, and filed four patents. At Bradley University, he has received two grants from NSF and a Caterpillar Fellowship on work related to forest science databases.
Service
Dr. Dolins has served as the chair of the Department of Computer Science and Information Systems since 2009. He is an academic advisor for senior computer science and computer information systems majors.
Steven's outside interest is boogie woogie, blues, jazz, and gospel piano. In addition to playing piano, he also owns his own recording company, The Sirens Records; this label has twenty-five titles and has been nationally recognized by the Wall Street Journal, the New York Times, and National Public Radio's "All Things Considered", "Fresh Air", and "Piano Jazz" programs.