Marjan Asadinia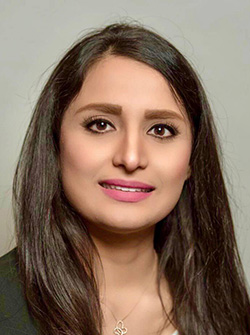 Assistant Professor
Bradley Hall 171
(309) 677-2446
masadinia@bradley.edu
Ph.D., Computer Engineering, Sharif University of Technology, Iran
MSc., Information Technology, Sharif University of Technology, Iran
Biography
Dr. Marjan joined Bradley University as an assistant professor in Fall 2021. Prior to joining Bradley, she was a postdoctoral fellow in the Department of Computer Science and Computer Engineering, University of Arkansas, AR, USA and a postdoctoral research associate with the School of Electrical Engineering and Computer Science, Oregon State University, OR, USA.
Teaching
Courses taught/will teach at Bradley University:
CS 220 Computer Architecture
CS 591/CIS 491/CIS 591 Computer Information System Project Management
CS 390 Introduction to Software Engineering
Courses taught before joining Bradley University:
Computer Organization and Architecture
Logic Design
Introduction to Computer Science
Introduction to C/C++ Programming
Agent-based Modeling and Simulation Software
Database Fundamentals
Software Engineering (I)
Fault-tolerant Systems Design
Cryptography
Data Security
Scholarship
Dr. Marjan research interests include high-performance computer/memory architectures, NoCs and SoCs, parallel and distributed systems, performance modeling/evaluation, and storage systems. Her research has resulted in several publications at top-tier venues (DAC, FCCM, IEEE TVLSI, ACM TODAES, and Journal of Supercomputing). She has published a book as a volume of Elsevier's Advances in Computers series. This book is mainly based on the Durable Phase-Change Memory (PCM) technology as a potential replacement for Dynamic Random-Access Memory (DRAM). Dr. Marjan received research grant from Caterpillar Incorporation for advanced memory technologies (2022-2023), Best poster award at CVRPW (2018) and ITRC research grant for outstanding research in Network-on-Chip (2012-2014).
Service
Dr. Marjan is a professional member of ACM, IEEE, and the WICARCH group. She is also in the program committee of PDP, CSI CADS and CSICC conferences. She served/serve as reviewer of several journals (IEEE TC, IEEE TVLSI, IEEE TCAD, ACM TODAES, Computer Architecture Letter, Elsevier Journal of Microprocessor and Microsystems, Integration, The VLSI Journal, JSA, JCEE, JCSS) and conferences (DAC, DATE, FPL, Euromicro PDP, CSI CADS, NoCs, ARCS, IPDPS), as program-co-chair of the on-chip parallel and network-based systems session (PDP 2022), and as editorial assistant of the CSI Journal on Computer Science and Engineering (CSIJCSE).