Kristen Strom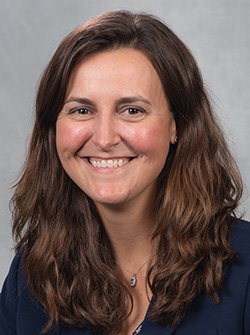 Assistant Professor
Westlake Hall 340
(309) 677-3541
kstrom@bradley.edu
Ph.D., English Education, Illinois State University, 2018.
M.A., Curriculum and Instruction, Bradley University, 2010.
B.A., Secondary English Education, University of Illinois at Urbana-Champaign, 2005.
Biography
Dr. Kristen Strom holds a Ph.D. in English Education from Illinois State University and a master's degree in Curriculum and Instruction from Bradley University. As a long-time educator from the area, Dr. Strom is honored to be part of the Department of Education, Counseling, and Leadership at Bradley University.
Teaching
At Bradley, she currently teaches human development, literacy methods, children's literature, and a variety of elementary methods classes. She also supervises elementary and secondary novice teachers. Previously, Dr. Strom was the Coordinator of Teacher Education at Knox College where she taught courses in literacy methods, foundations, and supervised student teachers. During graduate school at Illinois State University, she taught secondary literature methods and college composition courses.
Scholarship
Dr. Strom's research interests focus on literacy instruction, literacy teacher education, and teacher advocacy. Her work has been published in The ALAN Review, The Illinois Reading Council Journal, the Illinois English Bulletin, and the Writers Who Care blog. She has also contributed book chapters in Vandehei-Carter, Villanueva, & Clark's (2021) Multicultural Curriculum Transformation in Literacy and Language Arts, Fleischer & Garcia's (2021) Everyday Advocacy: Teachers Who Change the Literacy Narrative, and Dyches, Sams, & Boyd's (2020) Acts of Resistance: Subversive Teaching in the English Language Arts Classroom. Dr. Strom has presented her research at local and state conferences including the Illinois Association of Teachers of English conference and the National Council of Teachers of English annual convention.
Service
Dr. Strom is a member of department committees and is active in her children's school serving on the Parent's Club Board, coaching, and volunteering in other capacities.