K. Paul Kasambira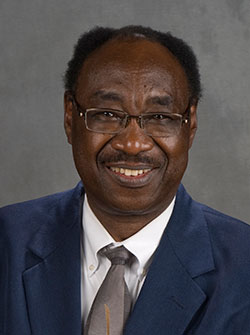 Professor
Westlake Hall 242
(309) 677-3188
kpk@bradley.edu
Ed.D., Secondary and Higher Education, Ball State University
M.A., Educational Psychology, Ball State University
B.A., English and Education, Taylor University
Biography
Dr. Kasambira was born, raised, and educated in Zimbabwe, Africa. Upon graduation in 1967 from Gweru Teachers' College, an institute of the University of Zimbabwe, Dr. Kasambira was appointed lecturer at Nyadire Teachers' College, where he taught for four years before going to the United States in 1971 for further education. While in Zimbabwe, he also taught at the elementary and secondary levels. Dr. Kasambira joined the teacher education faculty in 1979.
Teaching
Dr. Kasambira teaches several courses, including Foundations of Education, Educational Psychology, Curriculum Development, Teaching Methods, and Multicultural Education. Dr. Kasambira has been named Professor of the Semester by Bradley students twice within the past five years. He has also taught comparative education courses in Great Britain. Apart from his professorial duties he has also served as a University administrator and senator. For the past 25 years, he has taught courses in Europe, for Bradley's Study Abroad Programs.
Scholarship
In addition to receiving awards for his outstanding teaching and research activities, Dr. Kasambira has published several articles in the United States, Canada, and Zimbabwe, and has given numerous professional presentations in the United States, Europe, and Africa. He has also done research in Switzerland and Germany. His books—Lesson Planning and Class Management, Teaching Methods, and Education, Administration, and Management—are widely used in classrooms throughout Indonesia, Great Britain, the Caribbean, the United States, and Africa.
During the summers of 1992 and 1997, Dr. Kasambira conducted research for some of his books at the universities of London, Nottingham, Cambridge, and Oxford in England. He has presented papers or given workshops in Ireland, England, and France, Costa Rica, Australia, Switzerland, Hawaii, the USA, Africa, Scotland, Denmark, and Austria.
Service
Dr. Kasambira sits on a number of boards of directors, including the Heartland Salvation Army, the Saint Francis College of Nursing, the Central Illinois Youth Symphony, and the Central Illinois United Methodist Church Administrative Board. He also serves on the National Council for the Accreditation of Colleges of Teacher Education (NCATE) Board of Examiners, and frequently chairs NCATE teams.