Magdalena Sas, Ph.D., CFLE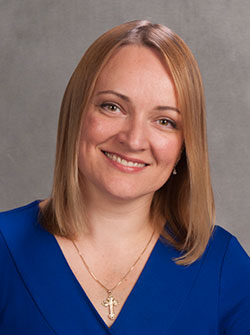 Assistant Professor & C.C. Wheeler Institute Director
Bradley Hall 5
309-677-3202
msas@fsmail.bradley.edu
Ph.D. Learning & Technology, Educational Psychology, University of Nevada, Las Vegas (UNLV)
M.S. Educational Psychology (Concentration: Assessment), UNLV
B.S. Hotel Administration, UNLV
Biography
Dr. Maggie Sas is a National Council on Family Relations (NCFR) Certified Family Life Educator (CFLE). Prior to Bradley, Dr. Sas operated a research consulting business, taught measurement and research methods courses to preservice teachers, and worked in the non-profit sector educating families, young adults and children. She also held positions in marketing research and direct marketing at the Rio Suites Hotel and Casino and Caesar's Palace in Las Vegas.
Teaching
Dr. Sas teaches the core Family and Consumer Sciences courses, including Family Dynamics and Resource Management, as well as graduate research methods and statistics courses.
Scholarship
Dr. Maggie Sas has published in journals such as the Journal of College Science Teaching and the The Journal of Educational Research. As part of her commitment to the C.C. Wheeler Institute, whose mission is to enhance family wellness, Dr. Sas is currently conducting a mixed methods research study in partnership with faculty from the Nursing Department, OSF Saint Francis Medical Center and Family House about the wellbeing of family caretakers of hospitalized loved ones. Dr. Sas is especially interested in engaging students in her work; for example, her current research is funded by a Special Emphasis Student Engagement Grant by the Office of Sponsored Programs at Bradley, which supports student development through hands-on involvement with faculty-led research. Dr. Sas also oversees student-led service learning/action research projects each year, and mentors student researchers in preparation for conference presentations and publications.
Service
Dr. Maggie Sas is on the Executive Board of Family House; she also serves on numerous departmental, college and university committees, such as the Bradley Student Scholarship EXPO Committee. She is the advisor for Kappa Alpha Tau, the Bradley Chapter of the National Honor Society for Human Sciences, Kappa Omicron Nu (KoNU).