Family and Consumer Sciences
The family and consumer sciences major is a degree you can shape for your interest in family studies, child development, wellness, food service, nutrition, clothing and textiles, or housing and design.
Preparing You For Success
By the time you graduate, your experiences include:
Courses and service learning and research projects in family and child development, nonprofit management, nutrition and hospitality, consumer issues, or clothing and textiles
Opportunities to work with families and children of diverse backgrounds at organizations such as Crittenton Centers, Common Place, Family House and OSF Children's Hospital of Illinois
Kappa Omicron Nu (KONu) national honor society membership, involvement or leadership roles; KONu recognizing excellence in family and consumer sciences
Illinois Council on Family Relations student membership and conference attendance
Additionally, you're encouraged to add a minor that complements your career goals. FCS students often add minors in sociology, leadership studies or professional writing.
Making Your Mark
FCS majors may become family life or child educators, nonprofit leaders, program coordinators or wellness professionals. You can enter the workforce after graduation or pursue a graduate degree in a field such as nonprofit leadership, human development counseling, education or business management.
Recent graduates own their own nonprofits, work in child and family development and are employed by the U.S. Air Force, Kraft Foods and Nordstrom. Graduates also have attended graduate school at Northwestern University, Pennsylvania State University and the University of Iowa.
Major Requirements
Family and Consumer Sciences Core: 12-15 hrs.
FCS 100: Family Dynamics - 3 hrs
FCS 220: Consumer Issues in Health Care - 3 hrs.
or FCS 300 Consumer Issues in America - 3 hrs.
FCS 310: Community Program Planning
and FCS 311: Evaluation and Research Methods
or FCS 346: FCS Resource Management - 3-6 hrs.
FCS 442: Foundations of FCS - 3 hrs.
Required Professional Work Experience - 0-3 hrs.
FCS 460: Retail Merchandising Practicum - 3 hrs.
or EHS 301: Cooperative Education Internship - 0-3 hrs.
Required FCS courses - 26 hrs.
FCS 103: Food Resource Management - 3 hrs.
FCS 203: School Health Promotion - 3 hrs.
FCS 204: Family Programs Across the Lifespan - 3 hrs.
FCS 340: Parent Education- 3 hrs.
FCS 341: Human Development through the Lifespan - 3 hrs.
FCS Electives - 8-11 hrs.
Selected in consultation with advisor.
Required Supporting Courses - 27 hrs.
SOC 100: The Sociological Perspective – 3 hrs.
PSY 101: Principles of Psychology – 3 hrs.
MTH 111: Elementary Statistics - 3 hrs.
WGS 200: Introduction to Women's and Gender Studies
or SOC 315: Gender & Society – 3 hrs.
SOC 210 Sociology of Families
or ETE 280: Exploring Diversity: Learners, Families, and Communities – 3 hrs.
ENC 370 Human Relations Development – Techniques – 2 hrs.
and ENC 375: Human Relations Development Laboratory – 1 hr.
Supporting Elective Courses (choose three) - 9 hrs.
COM 305: The Persuasive Process - 3 hrs.
COM 315: Intercultural Communication Theory - 3 hrs.
ETE 115: The History of Education in the United States - 3 hrs.
HS 380: Disability and Health in a Global Society - 3 hrs.
NUR 163: Health of the School Age Child - 3 hrs.
NUR 219: Women and Health - 3 hrs.
NUR 220: Alcohol: Use and Abuse - 3 hrs.
NUR 221: Substance Abuse - 3 hrs.
NUR 353: Aging: A Life Experience - 3 hrs.
PSY 201: Brain and Behavior - 3 hrs.
PSY 245: Stress and Resilience - 3 hrs.
PSY 309: Human Sexuality - 3 hrs.
SOC 212: Sociology of Diversity - 3 hrs.
SOC 311: Comparative Family Systems - 3 hrs.
SOC 312: Social Inequality - 3 hrs.
SOC 332: Juvenile Delinquency - 3 hrs.
SOC 342: Social Policy - 3 hrs.
SW 354: Human Behavior in the Social Environment I - 3 hrs.
SW 355: Social Welfare Policy - 3 hrs.
Required Minor - 18 hrs.
There are many options on campus that students can choose from that would align with a variety of family studies professions that would advance a student's expertise, such as Sociology, Women's & Gender Studies, and Health.
Open Elective Courses - 14 hrs.
Selected in consultation with advisor.
Contact Information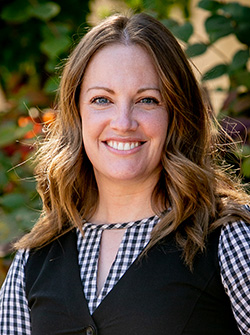 Course Sequence
Sample program plan information is provided for sample purposes only. Students should consult with their academic advisor about their individual plan for course registration and completion of program requirements.
Freshman - Fall Semester
FCS 100
Family Dynamics
3 hours
SOC 100
The Sociological Perspective
3 hours
BA/BS
Elective
3 hours
BA/BS
Elective
3 hours
BCC
Core Course (OU)
3 hours
BCC
Core Course (HU)
3 hours
Total
16 hours
Freshman - Spring Semester
FCS 103
Food Resource Management
3 hours
WGS 200
Introduction to Women's and Gender Studies
3 hours
PSY 101
Principles of Psychology
3 hours
BCC
Core Course (MI)
3 hours
BCC
Core Course (W1)
3 hours
Total
15 hours
Sophomore - Fall Semester
FCS 204
Family Programs Across the Life Span
3 hours
SOC 210
or ETE 280
Sociology of Families
or Exploring Diversity: Learners, Families, And Communities
3 hours
FCS
Elective
3 hours
BCC
Core Course (FA)
3 hours
BA/BS
Elective
3 hours
Total
15 hours
Sophomore - Spring Semester
FCS 203
School Health Promotion
3 hours
ENC 370
Human Relations Development-Techniques
2 hours
ENC 375
Human Relations Development Laboratory
1 hour
MTH 111
Elementary Statistics
3 hours
BA/BS
Elective
3 hours
BCC
Core Course (NS)
3 hours
Total
15 hours
Junior - Fall Semester
FCS 341
Human Development Through the Lifespan
3 hours
EHS 301
Cooperative Education Or Internship in EHS
0-3 hours
FCS
Elective
3 hours
FCS
Elective
3 hours
BA/BS
Elective
3 hours
BCC
Core Course (WI)
3 hours
Total
15-18 hours
Junior - Spring Semester
FCS 300
Consumer Issues in America
3 hours
FCS 346
FCS Resource Management
3 hours
SOC 315
or WGS 200
Gender and Society
or Introduction to Women's and Gender Studies
3 hours
BA/BS
Elective
3 hours
BA/BS
Elective
1 hour
BCC
Core Course (W2)
3 hours
Total
16 hours
Senior - Fall Semester
FCS 340
Parent Education
3 hours
FCS
Elective
3 hours
BA/BS
Elective
3 hours
BA/BS
Elective
3 hours
BCC
Core Course (WI)
3 hours
Total
15 hours
Senior - Spring Semester
FCS 442
Foundations of FCS
3 hours
FCS
Elective
3 hours
BA/BS
Elective
3 hours
BA/BS
Elective
3 hours
BA/BS
Elective
1 hour
BCC
Core Course (EL)
3 hours
Total
16 hours
Total Hours: 123-126