Elizabeth Clarke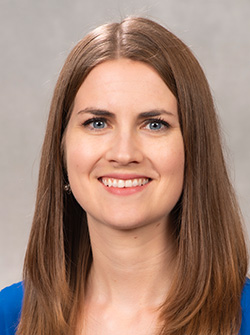 Assistant Professor of Music, Piano and Music History
Constance Hall 206
(309) 677-3895
eclarke2@bradley.edu
Biography
Canadian pianist Elizabeth Clarke is active as a performer, teacher, and scholar. She has performed numerous solo and collaborative recitals in Canada and the United States, and in 2014 performed as a soloist with the University of Victoria orchestra. In 2009 she was a winner of the University of Alberta's Johann Strauss competition for summer music study in Austria, and she has also participated in other festivals including the Orford Arts Centre in Quebec, the Nice International Summer Music Academy in France, and the Tuckamore Chamber Music Festival in Newfoundland.
An active academic, Dr. Clarke's research has focused on Canadian music, aural skills pedagogy, and the music of French Romantic composer Louise Farrenc. Her work on Canadian piano quartets has been published on the website of the Canadian Music Center, and she currently writes program "close listening" notes for the Ann Arbor Symphony in Michigan. She has received many academic prizes, including the Conference Paper Award at the University of North Texas's GAMuT Graduate Student Conference, a Governor General's Silver Medal from the University of Alberta, and a graduate scholarship from the Social Sciences and Humanities Research Council of Canada.
As a teacher, Dr. Clarke seeks to foster curiosity and versatility in her students. She has taught applied piano, theory, aural skills, and history to students of all ages, in both class and private settings, and has held teaching assistantships at the University of Victoria and Michigan State University. In the summer of 2017 she was a program assistant for Michigan State University's Celebrating the Spectrum piano festival, where she worked as a mentor, practice coach, and duet partner for piano students on the autism spectrum.
Dr. Clarke holds both a DMA degree in piano performance and a Masters in music theory from Michigan State University. She also holds a Masters in piano performance from the University of Victoria, and a Bachelor of Music from the University of Alberta, Augustana Campus.