Moria Tunison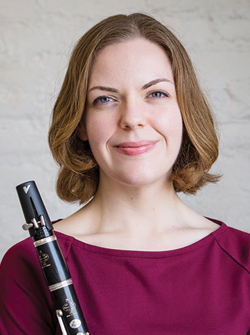 Affiliate Instructor, Clarinet and Woodwind Methods
Constance Hall 323
(309) 677-4728
etunison@bradley.edu
Biography
Dr. Moria Tunison is currently the Affiliate Instructor of Clarinet at Bradley University. In addition to teaching at the collegiate level, Moria teaches clarinet lessons at Monticello Middle School and the Music Shoppe Lesson Studios in Champaign, Illinois. During the summer, she is the Clarinet Instructor for the Glenwood High School Marching Band Camp in Chatham, Illinois and has taught at the Blue Lake Fine Arts Camp as a Clarinet Instructor and Woodwind Auxiliary Instructor.
An active performer, Moria performs regularly with the Millikin-Decatur Symphony Orchestra as the substitute clarinetist and has performed with the Franco-American Vocal Academy Opera Chamber Orchestra in France, the Urbana Pops Orchestra, the 2017 National Intercollegiate Band, and with the Eastern Symphony Orchestra as the 2010 Concerto Competition Winner. She has also participated in chamber ensembles including woodwind quintets, clarinet choirs, the MIL Clarinet and Percussion Duo, and the Illinois Modern Ensemble.
Moria has been published in various academic journals including her article, Lefèvre's Third Concerto Viewed Through the Lens of His Méthode de Clarinette: An Argument for Historical and Pedagogical Performance Practice (published in the March 2021 edition of The Clarinet journal), her editorial Creating a Meaningful Studio Class for a Small Studio (published in the Spring 2021 edition of the NACWPI journal), and her article Teaching Younger Students During Covid (featured as part of the "Clarinet in the Time of Covid Series" on The Clarinet [Online]). Moria was also chosen as a Finalist in the 2020 International Clarinet Association Research Competition for her research on Jean Xavier Lefèvre and his Third Concerto.
Studying with J. David Harris, Moria received her Doctorate in Musical Arts in Clarinet Performance and Literature, with a cognate in Musicology, from the University of Illinois at Urbana-Champaign. She earned her Master's in Clarinet Performance from Michigan State University, where she studied with Dr. Guy Yehuda, and her Bachelor's in Clarinet Performance and her Bachelor's in Instrumental Music Education from Eastern Illinois University, where she studied with Dr. Magie Smith. Moria also studied clarinet with Harvey Hermann, piano with Dr. Susan Teicher, and oboe with Blaine Edlefsen.
Moria currently serves on the International Clarinet Association Youth Committee. She is a member of the International Clarinet Association, the College Music Society, the National Association of College Wind and Percussion Instructors, the National Association for Music Education, the Illinois Music Education Association, and Kappa Kappa Psi.
Outside of music, Moria loves running, gardening, traveling, and visiting bakeries to find the perfect macarons outside of France.