Cindy Brubaker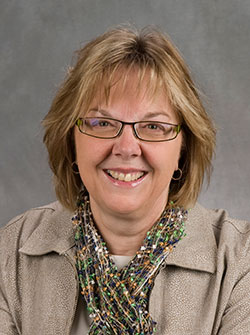 Department Chair & Associate Professor of Nursing
Burgess Hall 301
(309) 677-2547
cindyb@bradley.edu
Ed.D., Curriculum and Instruction from Illinois State University
M.S., F.N.P. from the University of Illinois at Chicago
B.S.N. from Bradley University
Diploma, Nursing from Swedish American Hospital School of Nursing
Biography
Dr. Brubaker has served as the Department of Nursing Chairperson since January 2014. Professional background includes 20 years of clinical practice in various areas including Adult Medical-Surgical, Cardiac and Medical Intensive Care, Cardiac Rehabilitation, Home Health, and Occupational Health. She is a member of the American Association of Critical Care Nurses, Academy of Medical-Surgical Nurses, National League for Nursing, and the Sigma Theta Tau International Honor Society.
Dr. Brubaker joined the Bradley University Department of Nursing faculty in August 2000. Prior teaching experience included 8 years of classroom and clinical teaching in the Diploma Nursing program at Graham Hospital School of Nursing, Canton, IL.
Teaching
At the undergraduate level, Dr. Brubaker has taught medical-surgical nursing and pharmacology and supervised practicums on various adult health units including cardiac, medical-surgical, ICU, and the emergency department. Dr. Brubaker is a member of the graduate faculty and has developed and taught MSN nursing education (theory & practicum) and guided graduate student research projects for on-campus graduate students. She has also developed and taught evidence-based practice (EBP) for both the MSN & DNP programs; taught nursing theories (DNP) & nursing administration (MSN); and guided DNP capstone projects in online graduate programs (RN to MSN, FNP, & DNP).
Scholarship
Dr. Brubaker's dissertation research involved the development of a tool to measure ethical caring in nursing students (Caring Actions and Responses within Encounters Survey (CARES©). Her Master's Thesis involved a survey to determine Nurses' Knowledge of and Attitudes Toward AIDS.
Research interests include caring in nursing, use of technology in nursing education, online and distance learning, nursing informatics, interprofessional education and collaboration.