Cynthia Steinwedel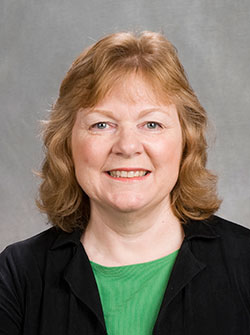 Assistant Professor of Nursing
Burgess Hall 314
(309) 677-2575
csteinwedel@bradley.edu
Ph.D. from University of Wisconsin at Milwaukee
M.S. from the University of Illinois
B.S. from Bradley University
Biography
Dr. Cynthia Steinwedel is an Assistant Professor of Nursing and teaches at the undergraduate and graduate levels. Her teaching responsibilities include nursing research, nursing skills lab, health assessment, NCLEX preparation, medical terminology, and graduate level nursing informatics, evidence-based practice, and scholarly projects. Prior to coming to Bradley she taught in the graduate program at the University of Illinois – Chicago.
Dr. Steinwedel's areas of practicum have included surgical, cardiac, orthopedic, and acute medical-surgical care. Her clinical experience includes 18 years of critical-care and surgical nursing, including certification as a CCRN, and service as a staff educator to critical care units.
In addition to her teaching responsibilities, Dr. Steinwedel has served on the Editorial Board of MEDSURG Nursing Journal and is a member of the Education Committee of the International Family Nursing Association. She serves the Bradley community as a member of the Executive Committee of the Graduate School. She was voted Professor of the Semester by Kappa Delta sorority in fall of 2011. Her community service includes being a regional coordinator and trainer for a FEMA-certified disaster response organization covering 51 counties in Illinois and deploying outside the state as needed. She received the U. S. President's Volunteer Service Award on the national level for her service to Disaster Services in 2017.
Dr. Steinwedel's areas of research include family caregiving for patients with dementias and cancer, as well as psychosocial aspects of oncology care. She has expertise in qualitative narrative and mixed-methods research design and data analysis. She has received several research awards, including one from the Academy of Medical-Surgical Nurses, and has presented her research both nationally and internationally. She has served as a reviewer for a number of textbooks and journals.