Laura Wallenfang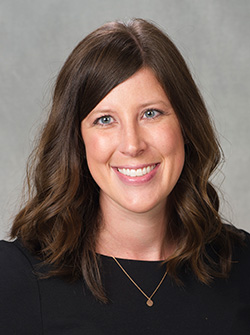 Assistant Professor in Residence
Burgess Hall 409
(309) 677-2571
lwallenfang@bradley.edu
M.S.N. from St. Francis Medical Center College of Nursing
B.S.N. from St. Francis Medical Center College of Nursing
Biography
Professor Wallenfang joined the Bradley University nursing faculty in 2016. Prior to that time, she worked as a Registered Nurse on Labor and Delivery at St. Francis Medical Center where she was a staff nurse, primary preceptor and a member of the Maternal-Fetal Transport team. She also participated on a Six Sigma Committee and was a member of the Family Birthing Center's Professional Nursing Council. Her clinical experience also includes Post-Partum Nursing, Cardio-Thoracic Nursing, Cardiac Nursing, and Cardiac Rehab. Professor Wallenfang is currently conducting research at a local hospital on Maternal Opioid Use Disorder and how stigma can shape the nursing care of these patients. Laura is happily married to her husband, who is a proud Bradley graduate. Her greatest joy is her three girls. She enjoys spending time with her family and finds gardening to be a good stress reliever.
Professional Experience
Laura Wallenfang is an Assistant Professor of Nursing with clinical expertise in Maternal-Newborn nursing. Her teaching experience ranges from Sophomore Health Assessment and clinical, Maternal Newborn Theory and Practicum, Junior level Medical Terminology, Senior Seminar and Senior Clinical.
Scholarship
Spahn, W. & Wallenfang, L. (2014). Student Centered Learning [Unpublished master's thesis].
Saint Francis Medical Center College of Nursing.
Wallenfang, L. (2020). Jane's Story: Care of the Family Experiencing Perinatal Loss and Grief. [Podium Presentation.] UP Methodist FBC Education Day. Peoria, IL, United States.
Wallenfang, L. (2020). Two Absolute Truths in Medicine. [Address.] Bradley University, NCF Chapter. Peoria, IL, United States.
Service
Laura currently volunteers with Richwood's Christian Church and volunteers during the Christmas season with the Peoria Children's Home. She also helps coordinate donation drives for the Children's Home and the Peoria Ronald McDonald House in honor of her daughter Jane, who died in 2017. Laura serves with the Nursing Honor Guard in Central Illinois. She is a member of the Association of Women's Health, Obstetric and Neonatal Nurses (AWHONN) and American Association of Critical Care Nurses (AACN). Laura has been a member of Sigma Theta Tau International in the Tau Omicron chapter. She also actively serves as a faculty leader for the Bradley Nurses' Christian Fellowship Chapter.
Awards
2016 Daisy Award Nominee- OSF Saint Francis Medical Center.
Licensures and Certifications
Laura earned her BSN (2008) from Saint Francis Medical Center College of Nursing. She also received her MSN (2015) from Saint Francis Medical Center College of Nursing. Her Master's research focused on student centered learning. She is currently pursuing her Doctorate of Education in Learning Design and Leadership through the University of Illinois. She is certified through the National Certification Corporation in Progressive Care Certified Nursing as well as with Inpatient Obstetric Nursing. She is also certified in Advanced Cardiac Life Support, Basic Life Support, and Neonatal Resuscitation Program.