Christopher Jones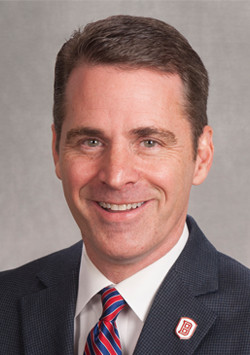 Dean and Professor
Bradley Hall 426A
309-677-2380
cmjones@bradley.edu
Ph.D., Political Science, Syracuse University
M.A., Political Science, Binghamton University
B.A., Political Science, Binghamton University
Biography
Christopher M. Jones is the Dean of the College of Liberal Arts and Sciences at Bradley University. As the chief academic and administrative officer of the College, Dr. Jones oversees 130-plus full-time faculty members across 12 departments and the Institute of International Studies. These 13 academic units span the humanities, social sciences, natural sciences, mathematical sciences, and computational sciences. The College offers 31 undergraduate majors, 28 undergraduate minors, six secondary education programs, and six graduate degree programs. Additionally, the College maintains productive partnerships with Bradley University's Center for STEM Education, Institute for Principled Leadership in Public Service, Honors Program, Pre-Law Center, and Pre-Professional Health Advisory Center.
Prior to his appointment at Bradley University, Dr. Jones was Dean of Arts and Sciences at Le Moyne College in Syracuse, New York (2013-14). At Northern Illinois University (NIU) in DeKalb, Illinois, he served as Associate Vice Provost for University Honors (2011-13). He also held three administrative positions in NIU's Department of Political Science: chair (2006-13), assistant chair (2002-05), and director of undergraduate studies (2001-06). In these leadership roles, Dr. Jones recruited and retained top faculty and launched numerous program initiatives, engaged learning opportunities, and collaborative partnerships.
At Bradley, Dr. Jones holds the faculty rank of Professor of Political Science. His field of specialization is international relations. His research areas are U.S. foreign policy and national security policy with an emphasis on the domestic determinants of such policies. Jones has published more than 30 journal articles, chapters, and books; presented more than 30 scholarly papers; and delivered 50-plus invited presentations. He is a two-term, past president of the Foreign Policy Analysis (FPA) Section of the International Studies Association (ISA).
Dr. Jones is also an accomplished teacher. At NIU, he was a recipient of the Excellence in Undergraduate Teaching Award, the University Honors Great Professor Award, and the Outstanding International Educator Award. In 2013, Jones was named a Presidential Teaching Professor, the institution's most distinguished teaching honor. Jones has also been recognized for teaching excellence by the American Political Science Association, the National Political Science Honor Society, and student organizations. In 2013, he received a national faculty award for excellence in international education from the Phi Beta Delta Honor Society for International Scholars.
Jones holds a B.A. and M.A. in Political Science from Binghamton University, State University of New York, where he was Phi Beta Kappa, and a Ph.D. in Political Science from The Maxwell School of Citizenship and Public Affairs at Syracuse University. Jones began his career as a visiting faculty member at Whittier College.