Cristina Almeida Velez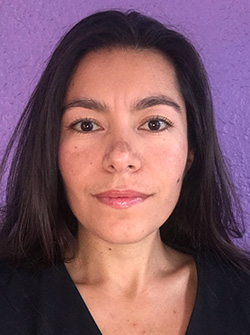 Affiliate Instructor of French
Bradley Hall 309
(309) 677-2474
malmeidavelez@bradley.edu
M.A. Languages, Literatures and Cultures, Illinois State University
TESOL Certification, Illinois State University
B.A. Ecotourism and National Tourism Guide, PUCE Catholic University of Ecuador
Biography
Cristina teaches French at Bradley University. She also teaches Spanish at Illinois Wesleyan University and English as a second language at Heartland Community College.
Cristina has a deep love in learning and teaching languages, and believes that through holistic, culturally relevant and culturally sustaining pedagogies teachers and students construct a better society.
Office Hours
Tuesday and Thursday 3:00 - 4:00 p.m.
Class Schedule:
WLF 102 T TH 1:30 - 2:45 BRD 142