Charles A. Bennett Collection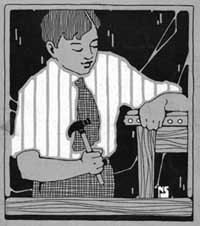 One of Bradley's original faculty and a pioneer in the Industrial Arts Education Movement, Charles Alpheus Bennett also founded the Manual Arts Press, now part of Glencoe-McGraw Hill. In the late 1930s, Bennett donated his personal library of some 1,000 books and 6,000 pamphlets. These items are grouped in four categories:
materials acquired for research on Bennett's two books (History of Manual and IndustrialEducation Up To 1870 and History of Manual and Industrial Education: 1870-1917 );
ephemera gathered during forty years as editor of Industrial Education magazine;
technical books and course outlines published during the early years of the Manual Training Movement in Sweden, England, France, Germany, and the United States; and
books on art instruction published in the first half of the nineteenth century. Within these categories, the collection also provides a good deal of information about Bennett and his activities in the Peoria area.
Full Texts of Significant Work Online
Bennett, Charles A. History of manual and industrial education, 1870 to 1917. Peoria, Ill.: The Manual Arts Press, 1937.
http://archive.org/details/historyofmanuali00bennrich
Bennett, Charles A. The manual arts. Peoria, Ill.: The Manual Arts Press, 1917.
http://www.archive.org/details/manualarts00benniala