A Man and His Machines
Steve Pierz's home rises above Peoria's West Bluff neighborhood as a testament to the best construction practices of its day. Dark red brick graces the exterior of the 1890s edifice, while decorative arches and Classical columns reflect the work of skilled craftsmen, heavy labor and horse-drawn carts.
Today, the MBA grad is developing a machine that could revolutionize construction practices a thousand bricks at a time. As chief innovation officer for Fastbrick Robotics (FBR) based in Perth, Australia, he's fine-tuning Hadrian X, a robot that automates much of the construction process.
"That's the ironic part of what I'm doing," he said. I'm living in a house built by master craftsmen doing without modern equipment. Now I've got a bricklaying robot."
Once complete, Hadrian X will be able to lay 180 concrete bricks an hour, what a typical human can do in one day. The machine cuts blocks to size, applies special adhesive instead of mortar, and zips them along a 100-foot arm to a head that sets blocks in place within 1 millimeter accuracy. Instead of a team of five taking two or three weeks to build a cinderblock building shell, a crew of three could construct it in several days.
"FBR is changing the game bringing mass construction to the construction site," he said. "In the Industrial Revolution, machines enabled mass production. Hadrian X can do the same thing, allowing for mass construction and customization."
It's bringing a robot to do what happened in the Industrial Revolution."
It's the latest challenge for a provocateur who spent 29 years asking "Why not?" every day at Caterpillar Inc. Ever since he wrote code to address a technical issue, Pierz has made a habit of transforming the workplace. Once he finished required duties, he'd explore other problems. Along the way, Pierz addressed a simple issue with piston pins and developed a polyurethane tire, among other accomplishments. No job was the same by the time he moved on to the next one.
Falling in love with the problem, not the solution, led to long, enjoyable hours at work testing ideas until something clicked.
"When I look at my career, it has a lot to do with disagreeability — I don't care what other people think of me," he said. "I'm going to tweak until somebody says I can't."
Pierz worked his way up the corporate ladder and became Caterpillar's strategy and innovation manager. That role led to a breakthrough: Friday Coffee Talks. At 7 a.m. every Friday, Pierz would host a conference call with technology experts, CEOs, authors and other thinkers. Around 300 Caterpillar employees around the globe would listen in and be encouraged to dream.
The talks encouraged employees by offering access to extra training, networking, and assistance for anyone willing to share ideas. One employee used the sessions to design and patent a joystick. That dreamer is now an engineering manager at Tesla.
"I'm proud I made a difference in somebody's life, that people felt good about going to work. There's usually no reward or recognition for people like me other than the satisfaction of solving the problem or doing something cool."
Through these morning conversations, Pierz shared his hunger to learn with 2,500 colleagues eager to impact the workforce. Armed with knowledge from Malcolm Gladwell, Stanford, the University of California-Berkeley and Singularity University, he inspired others to dream. Beyond expert leadership training, he picked up ideas from worldwide travel.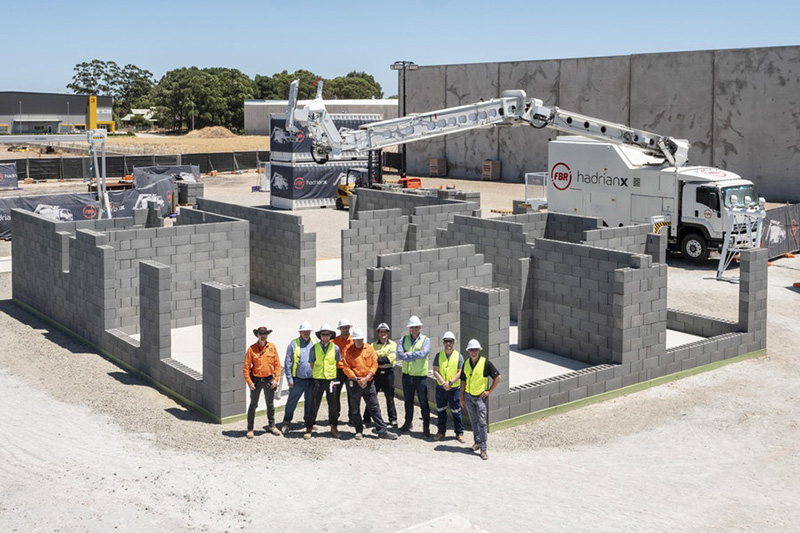 Eventually, Pierz's thirst for creative solutions led him to FBR. While looking at digital construction innovations, he discovered the company's technology and saw the potential to disrupt an industry.
Beyond his technology interests, Pierz saw how he could have a direct role as a mentor while pursuing a lifelong interest in solving global housing inequities. With more than a billion people worldwide living in substandard housing, a fleet of Hadrian X robots could alleviate housing issues thousands of blocks at a time.
"It's the most incredible opportunity to end a career," he said. "How many Einsteins, da Vincis are in that billion people who struggle to feel safe at night because they have no shelter? If you add a billion more minds to the collective genius of our planet, how much faster, further could we get with those extra minds? We're unleashing human potential."
Ever the thinker, Pierz believes the robot will free skilled workers to do what they do best. Instead of masons doing hard labor on basic construction, they will be free to add their flair to decorative work. As fewer people are entering construction-related trades, robots can make up for the labor shortage while freeing those in the field for more rewarding jobs.
"Why have a talented mason do something you're going to cover up anyway?" he said. "Let the machine do dull, dirty, dangerous, and let craftsmen do the creative and decorative side. That's the fun part where you add value."
— Matt Hawkins