There's a lot of glitz and glamour associated with winning an Emmy, not to mention the potential for a nice piece of bling to put on your mantle. But what does it take to get there, and does it help boost your career? Two Bradley alumni share their experiences.
In 2015, Chris Faczek '08 earned the award for his contributions to achieving Outstanding Special Visual Effects in a Supporting Role for "American Horror Story: Freak Show" and the episode "Edward Mordrake, Part 2." He earned a second nomination this year in the Outstanding Special Visual Effects category for the season two finale of "Westworld," but the team lost to powerhouse "Game of Thrones."
It may sound exciting, but Faczek is quick to note that getting there took a lot of hard work. "When we won the first award, I was working 10- or 12-hour days for 30-40 days without a day off," he said. "You get into this mode of working constantly … People don't really know how much stuff goes into the back end (of production) on something like this."
Although the workload was intense, Faczek admitted he did gain a lot of great experience. His career as a VFX artist and supervisor spans more than 60 different TV shows and features, as well as commercial spots for clients at every major broadcast, cable, and streaming network. In his current role as a compositing supervisor for DNEG TV, Faczek leads the 2D department for the company's Los Angeles office
At DNEG, Faczek has a better quality of life. To him, that's as much of a career boost as climbing up the ladder. And when it comes to hiring, having recognition from the Academy of Television Arts and Sciences isn't as big a deal as some might expect.
"It's good to know that people have been on those award-winning teams, but you can't necessarily take that as an indication that they're something, because the teams are so large."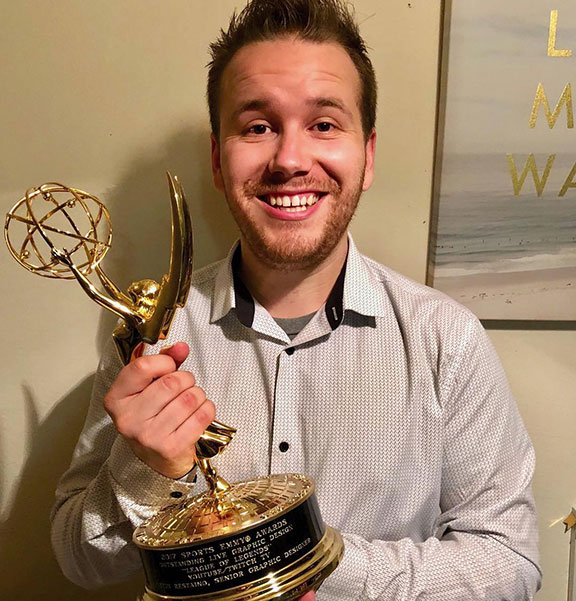 Justin Restaino '13 was a little luckier this year, winning a Sports Emmy for "Outstanding Live Graphics Design" at the 2017 "League of Legends" World Championships, an event based on the multiplayer online battle arena video game developed by his employer, Riot Games.
As a realtime graphics artist, Restaino was responsible for many of the technical aspects needed to have an augmented reality dragon fly into Beijing Olympic Stadium. The idea was to create an opening ceremony similar to the Olympics and pay tribute to Chinese culture. The project took about seven months for the large team of producers, artists and engineers to complete.
Restaino said it was never his goal to create work that wins awards but instead wants to build the best user experience possible. Still, he understands the win has positive career implications. And while an Emmy win five years after graduation is noteworthy, Restaino sees it as much more than that.
"It's a testament to the hard work and collaboration that my entire team put into the entire year," he said, adding the win hadn't altered his daily work focus. "It's (really) the everyday genius that comes from my colleagues that's impressive."
What has changed is how award shows like the Emmys have more options today to choose winners from other than the major networks. "League of Legends" is available on both YouTube and Twitch, a website specifically geared toward gamers and live streaming and the one most of their viewers use.
"I think it's similar to Netflix and how their TV shows and movies are becoming more and more prominent with the Oscars and Emmys," Restaino said. "When 'Orange is the New Black' won it was a big deal. But I don't know how (wins like that) will change the industry."
Both Faczek and Restaino said they were unable to share details about projects they're developing for the hush-hush entertainment industry, but for now, both men are content with their chosen careers.
"Right now, I'm just going to keep doing what I'm doing," summarized Faczek of Hollywood's volatile nature. "… In this industry, who know how long (my) office will even be around?"