From farm to international table
Growing up on a central Illinois farm gave Sandi Talbott Ging '72 a heightened awareness of food and what it takes to produce it. Her mother's diabetes diagnosis and the birth of her own daughter spurred her on a life-changing quest 25 years ago.
Seeking ways to improve her mother's quality of life, Ging researched diets and nutrition, supplementing that with work at Hippocrates Health Institute, a Florida-based non-profit offering comprehensive wellness training and programs.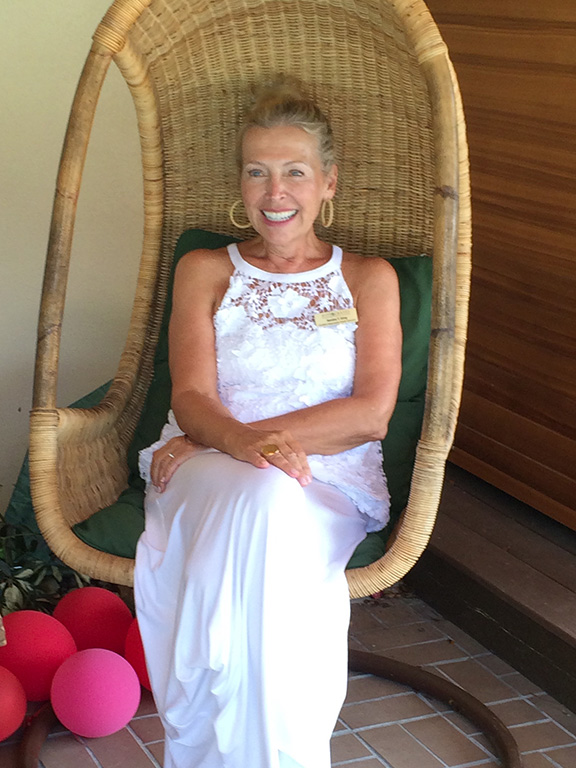 "That led me into vegetarian, plant-based living and education," she said. "It was not a hard transition for me, intuitively, because I was raised on a farm. If you grow everything you eat, you understand."
Ging is now an educator and lecturer on plant-based living and a certified raw food chef who splits her time between Fort Myers, Fla., and Chicago, with occasional visits to the Peoria area, where she still has family.
Her interests also led to her leading annual 10-day retreats to India, Dubai and Costa Rica starting eight years ago. "January is the best month for India because the weather is beautiful — 80-degree temperatures and no rain. It's ideal," Ging said.
Most participants are first-time travelers to the country and represent an array of ages and backgrounds but the trip serves as a bonding experience.
"Usually, people who come don't know each other. And that's a wonderful thing. They become friends. The common denominator is they are seasoned travelers. That's fun for me because they'll be open (to new experiences)."
Ging prefers the term plant-based because she believes it's easier to understand and more welcoming than vegetarian. She also suggests that people try for smaller, gradual changes in their dietary habits — such as eliminating sugar for 30 days — while adding more green vegetables and salads at mealtime.
"If you try to take someone off everything, they will not do well," Ging said. "Just tweak (your eating habits). Keep your chicken, keep your beef. Just know where it comes from. Gradually plant- based food will likely become far more appealing."
While giving up sugar for 30 days during the holiday season sounds too difficult, Ging believes small changes are worthwhile whenever you do them.
"When (you give up sugar) for just 30 days, the whole body changes," she said. "After 30 days, if you try drinking that diet soda or that milkshake, you're not going to feel good. Your body knows what is right, if we just listen."
— Bob Grimson '81