Other Marks
Bradley Seal
The seal is an official symbol of the university used for diplomas, certificates, plaques and documents of an official nature, as well as on formal communications by the president. For uses other than those listed above, please consult with the Office of Marketing and Communications, which will provide the original seal artwork for approved uses.
Bradley Tartan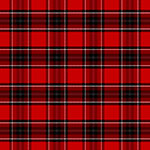 A tartan is a fabric woven in crossing bands of color which represent traditions of and affiliation with specific groups. While the origins of the fabric are strongly rooted early Scottish history, the fabric itself is rapidly becoming a globally recognized symbol of tradition and affiliation. The official Bradley University Tartan was created by Carolyn Stewart '17, a hospitality leadership major who submitted the design in a university-wide competition.
Bradley's tartan is registered with the Scottish Register of Tartans in Edinburgh, Scotland, and a woven sample of the tartan is maintained in the National Archives of Scotland. Collegiate Tartan Apparel, a licensed university vendor, is the only vendor who may produce merchandise using the tartan, which is available in the bookstore for purchase.
Athletic Logo
The Bradley Department of Athletics logo is used to represent the athletic department and its activities and programs. Complete guidelines for use of the athletics logo are available here. Any use of the athletics logo is to be approved by the Department of Athletics. For usage approval, please contact Brooke Buzard, director of marketing and new media, at Ext. 4659 or bbuzard@bradley.edu.