Legal Affairs and General Counsel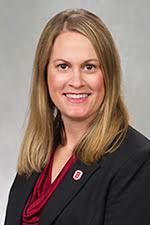 Ms. Erin Kastberg
Vice President for Legal Affairs and General Counsel
B.S., J.D.
Swords Hall 207
(309) 677-3150
ekastberg@bradley.edu
Erin E. Kastberg came to Bradley University in 2018 to serve as the University's first Vice President for Legal Affairs and General Counsel. As the chief legal officer of the University, Erin is responsible for the management of all legal issues affecting the University and represents the University in various proceedings. Erin advises the Board of Trustees, the President, the Provost, Vice Presidents, faculty and staff on a wide range of issues, including contracts, student affairs, risk management and insurance, policy development, personnel and employment issues.
Erin came to Bradley from the University of Wisconsin System Office of General Counsel where she served as legal counsel since 2011. In that capacity, she advised campuses on issues relating to employment, student affairs, contracts, and general higher education law. Previously, she was in private practice where she practiced primarily in the areas of labor and employment law and school law.
Erin is a graduate of Iowa State University with honors and distinction and the University of Iowa College of Law where she was a member of the Iowa Law Review and Moot Court Board.