President Glasser's message on help for Haiti
January 15, 2010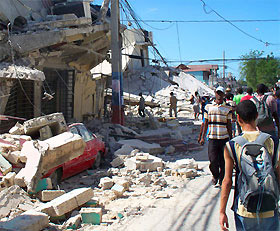 The Bradley family has joined the rest of the world in grieving over the terrible loss of life and massive destruction that has struck Haiti in the wake of the recent earthquake. Our hearts go out to everyone who has been touched by this disaster, and we pray for quick recovery to those who have been injured. As a compassionate living and learning community, Bradley University is encouraging assistance to those involved in this critical humanitarian effort.
I have been asked how members of the Bradley community can help the victims of Haiti. The U.S. Department of State is advising that financial contributions are most needed to provide food, water and medical supplies to help in the rescue. You can contact the Red Cross through its International Relief fund at http://redcross.org or donate $10 by texting "Haiti" to 90999. The Peoria-based organization that operates six medical clinics annually, Friends of the Children of Haiti, is accepting donations at http://fotcoh.org/.
Our thoughts and prayers continue to be with the people of Haiti and to all of the rescue workers providing aid and support.
Warm regards,
Joanne K. Glasser
President
Bradley University