Private Tutoring

"Tutor Matching Service (TMS) is an online tutor list/tutor marketplace that matches students with tutors for both online in person tutoring sessions in over 150 subjects and standardized test preparation. ... TMS takes care of the scheduling, booking, and payment to allow tutors more time to do what they do best—coaching—and less time worrying about business details." (TMS press release August 1, 2013)
Bradley University has collaborated with TMS for the convenience of students who either cannot use the Academic Success Center's services (including non-Bradley students) or would rather have a private tutor. The TMS tutors offer their services on a pay-per-session basis. They set their rates themselves, and students pay them directly through TMS. Bradley University provides no oversight of their services and does not make any recommendation regarding their appropriateness to tutor inside the subject areas they have self-selected to tutor in. This is distinct from the "badges" that Bradley provides to student tutors who meet certain training, experience, and/or academic requirements. See descriptions of each badge below.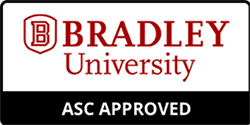 This tutor meets all requirements for employment with the Academic Success Center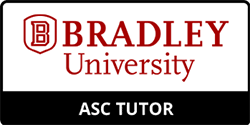 This tutor is also employed by the Academic Success Center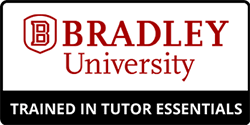 This tutor has completed the basic Tutor training course offered by TMS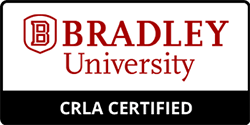 This tutor meets all requirements for and is certified by the College Reading & Learning Association
Students should always first check out the many tutoring and academic support services that we offer at no extra charge; however, the Academic Success Center is excited to offer this new partnership with Tutor Matching Service as an additional resource for Bradley University students!
Please note that Bradley University is not affiliated with Tutor Matching Service (TMS). Tutors on TMS are not employees or independent contractors of Bradley University. Rather, the tutors on TMS are private contractors hired directly by students. Bradley University neither guarantees the quality of TMS or its tutors, verifies the credentials or criminal and professional background of TMS or its tutors, nor endorses TMS or its tutors in any way. Bradley University makes no warranty, express or implied, of any kind, regarding the services provided by TMS or its tutors. Students are urged to read and follow the TMS terms of service carefully in order to get the best experience.
Sign Up To Be A Tutor Through TMS
Tutors simply need to go to tutormatchingservice.com/bradley
Tutors select "login/sign up" in the upper right corner of the website.
Tutors should select Bradley University, and log in using Gmail or Facebook, or by creating a TMS account using their school email address and a password of their choosing. They need to use this login information every time they come back to TMS.
Tutors then should follow the sign-up process. They can set up their calendar, but they will be able to come back and edit this information at any time. Make sure they also download and log in to the TMS app to complete their sign up.