Interviewing
Info Guides: How to Ace Your Interview (pdf) Interviewing (pdf)


Interviewing - Before
Interviewing - During


Job offers are not won by accident; time spent preparing for an interview produces significant results. The more you practice your interviewing skills, the more confidence you gain and the more polished your presentation.


How Can I Prepare for the Interview?
Interviewing is a skill. You must present your best and most relevant qualifications. To do this takes research on your field of study, the company, and practice. Steps to prepare for every interview:
Define Your Career Goals
Employers look for people with a strong sense of personal and professional goals. Examine how this position and the employer's advancement opportunities will help you move toward your long-term career goals.
Research the Organization and Position
Use the organization's web site AND other resources to learn about the employer's products, services, and financial stability. Helpful web sites for company research include: Riley Guide, Hoovers, and Vault.com. News articles about the organization and related industry can also be helpful.

Requesting a detailed job description when scheduling the interview can also make your preparation more effective. If possible, also network with individuals who work for the organization to gain insight into the culture and the department before the interview.
Identify Your Best Qualifications
Once you have examined the job description and researched the organization, take time to identify your top skill matches. Think about examples from your work, school, and volunteer activities that best demonstrate these skills and practice describing them in a concise, factual manner. Prepare to bring samples of your work, when appropriate.
Practice Answering Sample Interview Questions
Practice your interviewing skills by scheduling a mock interview with a Smith Career Center Career Advisor or with a networking contact who is willing to give candid feedback. Examine both what you say and how you say it (tone of voice, rate of speech, etc.). Do you project excitement about the position? Have you done a good job in matching your skills to the position? Are you positive in your responses? The list of questions at the end of this guide can help you prepare. There are also many good resources online to help you prepare
Job Interview Questions - Enter a job title, select one from th elist offered that closely aligns with your target, browse and choose questions that mirror the job ad to develop a practice list
Take a practice HireVue interview - The interview consists of 3 video interview questions that are geared toward students. The questions are similar to those you will experience when interviewing with a real company. The experience also includes 2 short games to allow you to get familiar with the gameplay process since this is something you may encounter in future interviews. The recording is only available to you. No one will have access to the interview or the gameplay data to use or share in any way. The interview will be deleted in its entirety after 30 days.
Prepare Questions to Ask the Interviewer
Prepare 3-7 questions to ask during the interview. See the list of sample questions for guidance. In addition, be sure to end the interview with a question about the timing of the next step of the interview process. Asking this question will confirm your interest and give you valuable information for appropriate follow-up.
Determine Salary Expectations
Identify a realistic salary range for your area of expertise. This information will be helpful whether you are asked for salary expectations on an application, during the interview, or when negotiating an offer. A Smith Career Center advisor can help research salary information for your field and level of expertise.
Assemble Items to Bring to the Interview
Bring the following items to every interview: extra copies of your resume, a copy of your transcripts, list of references, portfolio with paper and pen, and samples of your work.
Scheduling the On-site Interview
Be sure to request the following information when scheduling an on-site interview:
Name(s) and title(s) of the interviewers (with correct spelling)
Location of the interview (including directions and parking information)
A complete job description (e-mailed or faxed to you)
Company web site/s for more information
An itinerary for the day
What (if any) of the travel expenses will be reimbursed
How Do I Make a Great First Impression?
First impressions are important to interviewing success. Your ability to fit into the organization and display proper social etiquette will determine whether or not you are invited back. Suggestions for a strong first impression:
Arrive 10-15 Minutes Early
Arriving early allows time to pass through security and to stop by the restroom for a last check of your appearance. When seated in the waiting area take time to observe what is on the walls and review any organizational reading material on display. Asking questions about items of interest can be a good way to "break the ice" with the interviewer.
Dress to Display Professionalism
Standard suits in darker colors are still considered most appropriate. Make sure your clothing is pressed and your shoes are in excellent condition. Keep jewelry and fragrance to a minimum. Neat, clean hair and nails are a must. "Business Casual" attire should not be worn to the interview, unless specifically requested. Need help deciding what to wear? The Washington State University Web site, Dress to Impress: A Guide, provides examples.
Practice Proper Office Etiquette
Introductions are very important. Stand when introduced to others. Offer a firm handshake, direct eye contact, and a smile. Wait to be seated until the interviewer indicates the appropriate location and be sure to sit-up straight.
Let the Interviewer Take the Lead
Wait for the interviewer to "get down to business." Listen carefully and be specific, but concise in your answers. If you do not understand a question, ask for it to be repeated. Take time to think about your responses. If the interviewer seems to be dominating the conversation, don't feel you must compete for "talk time." Be prepared to summarize your most relevant qualifications as part of your concluding comments.
Display Proper Manners at a Meal
Many interviews at the employer's site involve a meal. Although it may be a less formal setting, be aware you are still being interviewed. Order moderately priced meals and ones that are easy to eat. Alcohol should be avoided. Use the time to learn more about the interviewer and his/her view of the position and employer. DO NOT volunteer "college stories" which could be viewed in a negative light by the employer.
Attire for Women
Attire for Men
Sample Interview Questions
General Questions
Tell me about yourself.
Why did you decide to attend Bradley?
How did you come to select your major?
What activities did you participate in outside the classroom?
Describe your work experience.
How do you plan to achieve your career goals?
How would a professor or work supervisor describe you?
What do you consider your greatest strengths and weaknesses?
What is your GPA? Is it reflective of your potential?
What two or three accomplishments have given you the most satisfaction? Why?
What interests you about our organization?
What do you know about our company?
Do you have a geographical preference? Are you willing to re-locate? Travel?
What qualifications do you have that would help you be successful in this organization?
What personal strategies do you use to deal with a stressful work situation?
Behavioral-Style Questions:
This style of interviewing is based on the belief that past performance will predict future behavior. To do well, you must provide specific examples from your background clearly describing three important parts - the situation, the action steps you took and the results of your efforts.

Common themes for behavioral-style questions include decision making, leadership, interpersonal communication, time management, failure, initiative/motivation, time management, planning/organization, and problem solving. Prepare for behavioral-style questions by recalling recent situations which demonstrate these themes. Utilize favorable examples from coursework, work experience, volunteer activities, or personal interests. Be honest, yet positive. Don't generalize about several events. Rather, give a detailed accounting of one event with attention to each of the three parts.
Describe a work situation where you were in charge of the planning. What was the project? What did you consider? What were the results?
Have you ever worked on a team or group project? If so, describe the advantages and disadvantages of working in a group versus working alone.
Give me an example of when you were a leader of a group and when you were a follower.
Tell me about a problem situation you encountered at work. What did you do to resolve it?
Give me a specific example of a goal you have worked to complete in the last year. What did you do to achieve it?
Case Questions:
Case questions are used to evaluate your ability to quickly analyze a problem and structure a competent strategy to derive a solution. Usually used by consulting firms, marketing firms, or other employers needing strategic planners, the questions do not have a "right answer". Interviewers use them to see if you listen, how you think, the logic behind your thoughts, and how well you can articulate your thoughts under pressure.
How many checking accounts do you think there are in the United States?
A New England telephone company is thinking about entering the home security market. What is the potential market size and what would you recommend they do?

It is difficult to practice case questions. Rather, it is important to develop an approach of handling them effectively. For additional sample questions and a detailed strategy on how to approach them, visit the web site, Case Questions.
Sample Questions to Ask an Employer:
Ask the HR Representative:
What type of orientation and training do new employees receive?
What is the schedule for performance reviews for this position?
What are the long-range possibilities for employees in similar positions who consistently perform above expectations?
Ask Your Prospective Supervisor:
What would I be expected to accomplish in the first six months of the job? First year?
What are the challenges of this position?
What relationship does this position have with other staff in the department? The company?
What personal characteristics are important for someone to be successful in this position?
Ask a Prospective Co-worker:
What do you like best about working for this department? What are the challenges?
Do you feel able to express your ideas/concerns here?
How much interaction do you have with supervisors, colleagues and customers?
How Should I Follow Up After the Interview?
Confirm your interest in the position and set yourself apart from the competition by promptly sending a thank-you letter or e-mail. Also, begin preparing for the next step in the interview process by completing these tasks:
Keep an Interview Journal
Immediately after the first interview, record your impressions. Include names of interviewers, questions you were asked (note if you need additional practice), and any questions you would like to ask in the next interview. Use this opportunity to plan your follow-up based on information shared in the interview. Travel expenses should also be documented to submit later.
Send a Thank-you Letter within 24 hours of the Interview
Confirm your interest in the position by sending personalized thank-you letters to all individuals involved in the interviewing process. Ask for business cards throughout the interview to make this easier. If you did not request business cards, call the person who set up your interview to request appropriate spelling of the interviewers' names and appropriate titles. Use your letter to thank the interviewer/s and to summarize how you can contribute to the organization. Send along transcripts or references, if requested.
Submit Travel Reimbursements
Generally, larger employers will reimburse expenses for on-site interviews. Smaller or non-profit employers may not. It is important to confirm which expenses will be reimbursed before the visit. Raise any questions you may have when you confirm the interview date and location. Be sure to keep copies of all receipts and submit them in an organized, timely manner. Even if you are not reimbursed, some expenses may be tax deductible.
Follow-up with a Telephone Call
If an employer fails to notify you in a timely manner, do not assume you did not get the job. Follow up with a telephone call within 2 to 3 weeks. Doing so can provide helpful information about the hiring process and let the employer know that you are still interested.
How Are Second (Site) Interviews Different from First Interviews?
Though interviewing processes vary, the first interview usually lasts 1/2-2 hours and is general in nature. The interviewer asks questions to determine if the candidate meets the minimum qualifications for the job. Sometimes these interviews are conducted by telephone or, in some cases, via a testing tool on the employer's web site.

Second interviews are usually scheduled at the employer's site in order to learn in-depth information about the candidate and to explore organizational match. Meetings can be a series of short, individual interviews or longer interviews with small groups. Interviews may also take place over a meal. Interview questions are usually more specific to the job description and the technical knowledge required for the job. Aptitude or drug tests may also be given.

Second interviews are a chance for the candidate to ask more in-depth questions, view work areas and meet direct supervisors and co-workers. Oftentimes, employer benefit packages including salary are also discussed. A job offer may be extended at the end of the day.
Telephone Interviews
Employers frequently use telephone interviews to conduct initial screening. Keep in mind the following tips:
Career Spots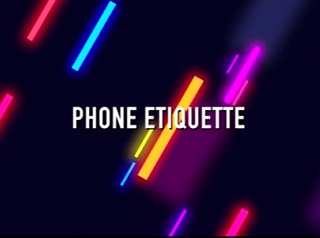 Phone Etiquette
CareerSpots.com ©
Do not interview without advance preparation. If asked to interview unexpectedly, politely make an excuse (you're on your way to class/work) and ask to re-schedule. Use the extra time to prepare.
Confirm the scheduled time in advance, especially if the company is in a different time zone.
Turn off all distractions and notify roommates of the interview.
Sit in a straight-backed chair or even stand during the interview. Your voice will sound more professional.
Have your resume, a list of questions and any notes about your qualifications or the employer ready and near the telephone.
Use a pad of paper and pen for notes.
Talk only when necessary. Allow for pauses in the conversation.
Keep comfort items such as a glass of water or tissues nearby.
Follow up as you would with a face-to-face interview.
What Are Some General Tips for the Interviewing Process?
Dos
Sell yourself by emphasizing your best qualifications for the job.
Be prepared to complete an application at the interview.
Be able to articulate how this position will fit into your long-term career goals.
Be friendly to office support staff.
Listen and observe. Use the information to strengthen your next interview.
Follow up with a thank you letter or e-mail - even if you are not interested in the job.
Don'ts
Cancel the interview at the last minute.
Be late.
Bad mouth others.
Assume you can "wing it".
Ask about salary or benefits too soon.
Assume your appearance does not matter.
How Can the Smith Career Center Help Me Prepare for Interviews?
Career Advisors at the Smith Career Center are happy to schedule practice interviews with students and Bradley alumni. These practice sessions include time to practice specific questions and to discuss strategies of how to answer any questions in which you are unsure. In addition, Career Advisors can also provide helpful information about salary ranges for specific majors and how to evaluate job offers.