Transfer Aides
The Transfer Aide position is one which allows a student to make a substantial contribution to the university and to entering transfer students. The position requires that an applicant display exceptional talents especially in responsibility, commitment, and industry. The work of the Transfer Aide is multi-faceted and involves professional-level tasks. Above all, the Transfer Aides must serve as role models displaying the highest level of values and positive behaviors while demonstrating sound, reliable judgment in complex problem solving.
Specific Responsibilities
Transfer Aides are leaders who form meaningful relationships with incoming transfer students.
During their tenure, Transfer Aides will complete the following tasks under moderate supervision. It is expected that Transfer Aides can work autonomously and can assist incoming students with both routine and occasionally complex issues that arise during the transition from one college/university to Bradley University.
Follow the Mentor Program Communication Plan (MPCP) to cover specific topics with incoming students within a prescribed timeline
Attend, assist and present during Transfer Student Orientation programs
Conduct all telephone-based communication with students in the Office of Transfer Student Assistance (Sisson Hall 141)
Update and distribute the B•Ready Newsletter
Plan updates for Begin Bradley
Assist in daily office operations including, but not limited to, filing documents, preparing for events, and guest and phone reception activities
Administrative Responsibilities
Transfer Aides are expected to adhere to the following expectations:
Attendance is required at all scheduled meetings when called
All Transfer Aides must maintain effective communication with fellow Transfer Aides in the Office for Transfer Student Assistance and the Orientation office staff.
Terms
Students selected as a Transfer Aide will maintain communication with incoming transfer students.
Transfer Aides will be paid hourly for the time they work at one of the on-campus orientation events and in the Office for Transfer Student Assistance which will be approximately 5 - 10 hours weekly.
Events are held on the following dates, and all Transfer Aides should be available to work at each event. Exceptions will be permitted on a case-by-case basis:
April 9 and 10, 2020
July 2, 2020
August 25, 2020
November 5*, 2020 *Tentative
January 19, 2021
Transfer Aides will be paid hourly for their time. Exact hours a Transfer Aide is expected to work on these days will be discussed once hired.
Requirements
Persons applying for the position of Transfer Aide must have a cumulative Bradley grade point average of 2.5 or higher.
Transfer Aides must be registered full-time students during the time of application and employment.
Persons holding the position of Transfer Aide will be expected to maintain a cumulative grade point average of 2.5. If grades fall below that level, the Transfer Aide may be asked to leave his/her position.
Transfer Aides should expect periodic performance evaluations. If the performance is not brought to acceptable standards within a reasonable time, the Transfer Aide will be released. After each completed semester, every Transfer Aide will be evaluated by the Director of Orientation in order to determine whether or not he/she is eligible to return the following semester.
As a Transfer Aide, you will be expected to represent our office and University in the highest ethical and professional manner. This includes how you are seen and perceived on popular websites and internet chat sessions such as Facebook, Twitter, Instagram, Snapchat, and all other similar forms of social media websites not mentioned here. The Director of Orientation may review your content and images periodically and request you to remove inappropriate images or comments that you have posted. The failure to comply could result in you being asked to leave the team.
Application Procedure
To be considered for this leadership position, students must complete the steps below:
Submit the Transfer Aide application
Request and see that two recommendation forms are submitted. At least one of the two should come from a Bradley University faculty or staff member.
If an interview is requested, students must complete a brief interview
This position may be registered as a credit-bearing internship. Students should refer to this Smith Career Center resource for specific information regarding internship requirements within their major college.
For additional information or questions, call the Office for Transfer Student Assistance at (309) 677-2417 or e-mail David Trillizio at dpt@bradley.edu.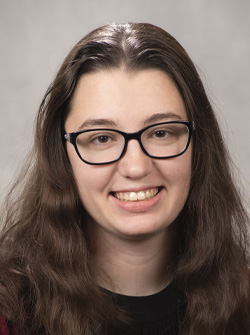 Hannah Grady
Amboy, IL
Electrical Engineering
Junior
hgrady
@mail.bradley.edu