Scott Williams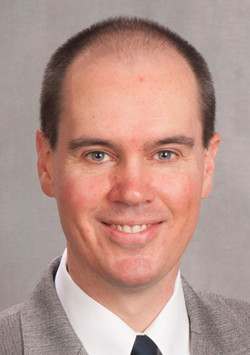 Lecturer of Computer Science and Information Systems
Bradley Hall 173
(309) 677-3599
jswilliams@bradley.edu
M.S., Computer Science, Bradley University
J.D., Law, Duke University School of Law
B.A., German, Swarthmore College
Biography
Mr. Williams joined the Bradley University faculty in 2018 as a Lecturer in the Department of Computer Science and Information Systems. Prior to joining the faculty, he prosecuted federal crimes with the United States Department of Justice, served on active duty as an Air Force judge advocate, and worked in private practice before completing his graduate degree in computer science at Bradley. Mr. Williams also served as an instructor with the department during the 2015-16 academic year.
Teaching
Mr. Williams teaches several undergraduate courses in programming, including Introduction to Programming, Data Structures and Advanced Programming Concepts and Languages; each of these courses is designed to introduce and build on increasingly advanced concepts in object-oriented programming using languages such as Java and C++. He also teaches an undergraduate course in ethics and technology, which challenges students to engage with complex issues of morality and professional responsibility raised by the intersection of computer science, law and ethics.
Scholarship
Mr. Williams is interested in information security, networking, and cryptography. In particular, he enjoys exploring the changing nature of privacy and speech from legal, social and technological perspectives.
Service
Mr. Williams serves as a faculty advisor for the senior-level capstone course, which allows department majors to engage with local companies on an in-depth project that leverages the students' skills and knowledge in the field of computer science. Active in the community, Mr. Williams has volunteered for local charitable organizations and provided pro bono legal services. He is also a member of the Illinois Bar Association.