Rick Smith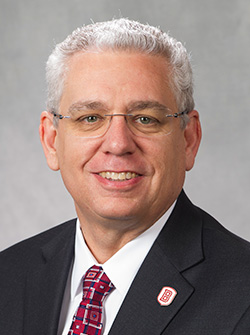 Executive Director Smith Career Center, Senior Director of Employer Services; Career Advisor, Caterpillar College of Engineering and Technology
Burgess Hall
(309) 677-2514
rsmith@fsmail.bradley.edu
https://www.linkedin.com/in/ricksmithphd
Ph.D, Counseling and Personnel Services, University of Louisville
M.A., Counselor Education, Sam Houston State University
B.S., Psychology, Sam Houston State University
Professional Experience
Rick Smith, Ph.D. has been with Bradley University since August 2000 initially as the Associate Director, then Director of Career Development (2007-2017), and currently as Senior Director for Employer Services in the Smith Career Center. In this role, he serves as the Career Advisor for the Caterpillar College of Engineering & Technology (previously advising students/alumni in the College of Liberal Arts & Sciences),
Previous positions held in higher education include graduate assistant for Academic Support (1995-2000) and a doctoral internship with Student Support Services and Technology departments (1998-2000) at the University of Louisville, and Career Advisor (1990-1995) at Sam Houston State University.
Teaching
Rick teaches BUS 220 - Career Planning Strategies (for students within the Foster College of Business) from 2000-2015 and 2018 as well as ENC 301 - Planning Career Strategies (for non-business undergraduates) in 2016-2018. He provides mentorship and consults with other instructors for these courses.
He has also taught the online graduate-level course ENC 621 - Career and Life Planning Across the Life Span (3 hours)
Service
Rick has served as Director-College Membership for the Midwest Association of Colleges and Employers (MwACE), as well as Professional Development Chair and technology liaison for several Recruiting Trends conferences.

He is a current member of the National Association of Colleges and Employers (NACE) and National Career Development Association (NCDA).
Licensures and Certifications
Career Advisor Scheduled Appointments
Appointments with Career Advisors are designed for more in-depth questions related to internships, full-time employment, graduate school, resumes, cover letters, interviews, job fair preparation, on line resources, etc.
Available to Caterpillar College of Engineering and Technology students and alumni
Available for questions about graduate school and government-related opportunities