Aurea Toxqui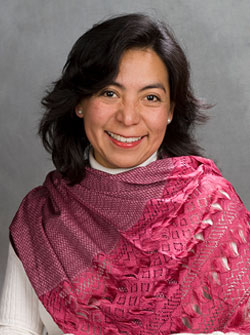 Associate Dean of Diversity and Innovation and Associate Professor
Bradley Hall 217
(309) 677-2563
atoxqui@bradley.edu
Ph.D., History, University of Arizona
M.A., History, Universidad Iberoamericana, Santa Fe, Mexico City
B.A., History, Universidad Iberoamericana, Santa Fe, Mexico City
Biography
Aurea Toxqui began teaching at Bradley University in 2008 following a year as a lecturer at the University of Tennessee-Knoxville. She was born and raised in Mexico City. Before coming to the U.S. to get her Ph.D., she worked for several museums in Mexico, including the National Museum of History. There, she was the head researcher for the museographical renovation, as well as the head of the Education Services Department. While pursuing her Ph.D., she discovered her calling as a college professor. She enjoys outdoor activities such as kayaking, disc golf, and hiking – particularly in the snow – all of which she has discovered in Peoria. She also takes pleasure in swimming, dancing, traveling, cooking, and spending time with family and friends.
Teaching
HIS 205 History of Latin America
HIS 335 Modern Mexico
HIS 339 Women in Global Perspective
LAS 101 Arts and Ideas: The Latin American Hunger Games
Scholarship
"Resentimiento / Resentment" by Christian Ortiz and translated by Aurea Toxqui in Mural magazine. (The University
"'That Mariachi Band and That Tequila.' Modernity, Identity, and Cultural Politics in Alcohol Songs of the Mexican Golden Age Cinema" in Mexico in Verse. A History of Music, Rhyme, and Power, ed. Michael Matthews and Stephen Neufeld. (The University of Arizona Press, 2015)
"Pulque," "Cantinas," and "Chapultepec" in Iconic Mexico. An Encyclopedia from Acapulco to Zócalo, ed. Eric Zolov. (ABC-Clio Encyclopedia, 2015).
"Breadwinners or Entrepreneurs? Women's Involvement in the Pulquería World of Mexico City, 1850-1910" in Alcohol in Latin America. A Social and Cultural History, ed. Gretchen Pierce and Áurea Toxqui. (The University of Arizona Press, 2014).
Pierce, Gretchen and Aurea Toxqui, eds. Alcohol in Latin America. (The University of Arizona Press, 2014).
Professor Toxqui studies popular culture to understand processes of identity and state-building formation, power, and resistance in Mexico. She focuses particularly in the analysis of tavern culture, social interaction, gender roles, drunkenness, and crime in response to urbanization and industrialization during the nineteenth and twentieth centuries.
"Taverns and Their Influence in the Suburban Culture of Late-Nineteenth Century Mexico City" in The Growth of Non-Western Cities: Primary and Secondary Urban Networking, c. 900-1900, ed. Kenneth R. Hall (Rowman & Littlefield, 2011).
"Pulque," "Fruit Liquors," "Cerveceria Cuahtemoc-Moctezuma," and "Grupo Modelo" in Alcohol and Drugs in North America: A Historical Encyclopedia, ed. David Fahey and Jon Miller (ABC Clio-Encyclopedia, 2012).
Awards
2015 - Research Excellence Award, Bradley University
2012 - Caterpillar Faculty Achievement Award for Teaching, Bradley University
2009 - Professor of the Semester, Kappa Delta Sorority, Bradley University
Service
Latin American Studies (Director)
African American Studies (Interim Director)
Women's and Gender Studies Committee
LAS Strategic Planning Committee
Senate's Committee on Equity and Diversity (Chair)
Founding faculty advisor of the Bradley Chapter of the National Society of Leadership and Success.
Female faculty advisor of the Alpha Psi Lambda National Inc.
Member of the Editorial Board of the journal The Social History of Alcohol and Drugs