Jennifer Robin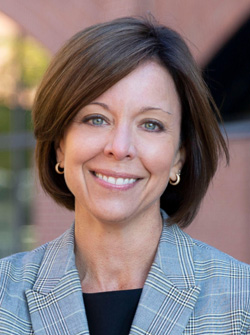 Professor, Management and Leadership
Business and Engineering Convergence Center 3124
(309) 677-4955
jrobin@bradley.edu
Ph.D., Industrial/Organizational Psychology, University of Tennessee
B.S., Management and Psychology, The University of Northern Iowa
Biography
Jennifer Robin, Ph.D. brings a unique blend of skills and experiences to her coaching and consulting engagements. She is a psychologist, certified Life Design coach, and an expert in leadership development, organizational culture, and strategic human resource management. During her career, Jennifer has served as a trusted advisor to leaders and leadership teams, designed and delivered academic curricula, managed operations in higher education, and served in a senior leadership role.
Jennifer is currently a Professor of Management in the Foster College of Business at Bradley University. Previous to her reappointment in 2022, she served as the Dean of the School of Business at Southern Connecticut State University and Associate Dean at Bradley University. She holds a Ph.D. in Industrial/Organizational Psychology from the University of Tennessee and undergraduate degrees in both Human Resource Management and Psychology from the University of Northern Iowa. She is also an affiliate of several professional organizations including the Society for Industrial and Organizational Psychology, the Academy of Management, and the American Psychological Association.
Teaching
Jennifer's courses are theory based, but focus on the personal application of theory and each student's potential as a leader and successful professional. She has won several teaching and advising awards, including Bradley University's prestigious Caterpillar New Faculty Award for Teaching, Phi Chi Theta's Outstanding Faculty Award, and Foster College of Business awards for Outstanding Advisor and Outstanding Organization Advisor.
Currently Teaching
ML 350: Managing for Results in Organizations

ML 354: Managing Organizational Effectiveness

ML 415: Diversity in the Workplace
Scholarship
Robin, J., Baumann, H., and Kotik, J. (2018). Identity coactivation: Person and situation influences and the mediating role of experienced conflict. Journal of Applied Social Psychology 48(8), 411-423.
Marcum, T., Perry, S., & Robin, J. (2013). How to Lower Costs and Get More Commitment from your Employees who Travel: Tax and Managerial Implications of Employer Travel Reimbursement Policies. Journal of Legal Issues and Cases in Business
Robin, J., & Burchell, M. (2013). No Excuses: How You Can Turn Any Workplace into a Great One. San Francisco: Jossey Bass. (Available on Audiobook.)
Burchell, M., & Robin, J. (2011). The Great Workplace: How to Build It, How to Keep It, and Why It Matters. San Francisco: Jossey Bass. (Translated into Bahasa Indonesian, Chinese, French, Hindi, Japanese, Korean, Portuguese, Russian, and Spanish and available on Audiobook.)
Service
Professional Memberships
Society for Industrial and Organizational Psychology
American Psychological Association
Academy of Management