Sarah Glover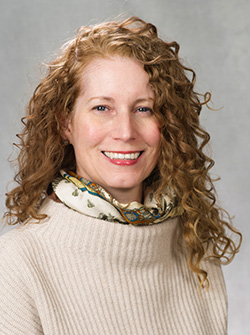 Associate Professor, Art History, Graduate Coordinator
Heuser Art Center 205A
309-677-3334
sglover@bradley.edu
Biography
Sarah Glover teaches courses in Medieval Art, Northern Renaissance Art, Art Criticism and Gender in Art. She received a Ph.D. in Art History from the University of Virginia where she specialized in the study of medieval manuscripts. Her early research focused on the iconography of illustrations of Marian miracles appearing in devotional books made for women in late Medieval England. Her study of medieval art extends beyond the illuminated page to consider the use of medieval imagery and Marian iconography in contemporary art and textile design. She has published on a wide range of topics from the Marian Miracle Cycle at Eton College to the motif of the Vagina Dentata in contemporary American visual culture. Her current research focuses on the use of Medieval and Renaissance art in the fashion industry and digital textile design.
Recent Presentations:
"From Altarpiece to Cocktail Dress: The Use of Medieval Images in Digital Dress," in "Dress as Art, Art as Dress: Costume Seen Through the Eyes of Technology" Secac (Southeastern College Art Conference), Fall 2014.
"Paper Dolls and Digital Fabrics: the Use of the Photographic Image in Textile Design." 2013 Fourth International Conference on The Image: The Everyday Image, Reproduction and Participation, Chicago. 2013
"Pretty Pixels and Black Milk. "5th Global Conference: Critical Issues in Fashion, Oxford, UK. 2013
"Is that a Bellini on Your Bum? The Strange Place of Digital Prints in Fashion Design." Seminar, Dunedin School of Art, Otago Polytechnic, NZ. 2013
Curatorial Projects:
Sarah Glover serves as advisor for the Illinois Women Artists Project, http://iwa.bradley.edu/, and co-curated the exhibit, "Making Their Mark: Illinois Women Artists in the 1940s and '50s," which opened at the Peoria Riverfront Museum, October 2015.