Michelle Riggio Rarick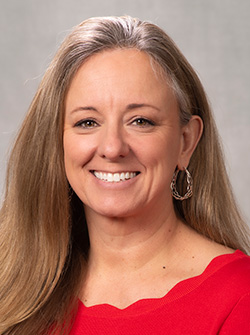 Executive Director
Business and Engineering Convergence Center Executive Education Suite 1130
(309) 677-3900
mriggio@bradley.edu
Masters Degree in Special Education (Bradley University, 2012)
Bachelor of Science in Education (Illinois State University, 2004)
Bachelor of Science in Journalism (Bradley University, 1993)
Biography
Michelle joined the Continuing Education division in 2008 as a program director. She is responsible for the division's ongoing development of non-credit programming for professionals, youths, and lifelong learners, and the marketing, approval of course offerings, and administration of contracts and payroll for Bradley's Summer and Interim Sessions.
She chairs the University Senate Continuing Education Committee and serves on Bradley's Staff Engagement Team. Michelle has also served as a juror for the Theodore C. Burgess Award, a representative on the Committee for Academic Technology Excellence, a member of the University Pandemic Plan B Subcommittee and Higher Learning Commission Accreditation Subcommittee, and chair of employee search committees.
Michelle facilitates workshops for the Osher Lifelong Learning Institutes National Resource Center, has led several presentations at lifelong learning conferences, and is the author of The Impact of Induction Programs on Special Educator Burnout (Master's degree thesis). She also holds three Illinois teaching certifications (Type 10, Special K-9 and 6-12, and Learning Behavior Specialist I).
She volunteers as a grant reviewer for the AmeriCorps Illinois Peer Review/Serve Illinois Commission. Michelle is also a graduate of the Peoria Area Chamber of Commerce Community Leadership School.
In her previous work, Michelle served as the Legislative and Governmental Relations Director for the Illinois Department of Military Affairs, Public Information Officer for Peoria County, and special education teacher at Dee-Mack High School and Delavan High School.