Classes
If you think OLLI Classes are like traditional school, you'll be surprised to learn we take a different approach. Imagine learning only about the topics you choose. Take classes taught by engaging instructors on a college campus with people your age. Better yet, there are no tests or grades. Add time for socializing, and you have a sense of what we do. It's learning — our way.
We offer OLLI classes on Wednesdays in April and October, and on four consecutive days in the second week of January. A typical day lasts from 8:30 a.m. to 3:30 p.m. with several breaks (and snacks!) throughout the day.
Seasonal Dates
At this time due to Covid-19 there are no classes in person planned. We currently hold all classes online.
Cancellation Policy
OLLI's cancellation policy was designed to encourage our members to carefully consider their personal availability for each event. This thoughtful scheduling will allow your peers who wish to participate have a chance to do so.
$10 minimum cancellation fee
If you cancel more than two weeks prior to luncheon, remainder of fee refunded ($89)
If you cancel less than two weeks prior to the luncheon, remainder minus luncheon charge refunded ($64)
If you cancel on or after the first day of classes, entire fee forfeited
Extenuating circumstances will be handled on a case-bycase basis.
Tim Bailey
Winter Curriculum Chair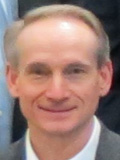 Rick Burritt
Fall and Spring Curriculum Chair
Committee Information
OLLI encourages member input and participation on any of its committees to help reach their goals. The Executive Board appoints a chair to head the committee; the chair reports to the board and attends all executive meetings. The chair may assume or delegate the responsibilities of the committee for a particular session. The curriculum and study groups chairs also work with the Bradley University liaison to develop balance for their respective areas.
OLLI classes originate in the Curriculum Committee. Duties include making and reviewing class suggestions, selecting classes, contacting potential instructors and securing teaching commitments from volunteer instructors. The Curriculum Committee meets three times between April and May, July and August, and November and December.