Learning Trips
Learning Trips are educational travel experiences that encourage you to interact with experts who offer behind-the-scenes looks at area businesses, regional attractions and international destinations. On OLLI trips, you get to investigate and explore with your peers while receiving top-notch customer service: all travel arrangements are developed by the staff so you can focus on learning and fun.
Learning Trips travel year-round and utilize our comfortable easy-access OLLI shuttles. Longer land excursions travel by charter coach.
Cancellation Policy
OLLI's cancellation policy was designed to encourage our members to carefully consider their personal availability for each event. This thoughtful scheduling will allow your peers who wish to participate have a chance to do so.
$10 minimum cancellation fee
Local trips: if you cancel and your spot is filled from waitlist, remainder of fee refunded
Local trips: if you cancel and your spot cannot be filled from waitlist, entire fee forfeited
Local/regional trips: if you cancel on day of reminder call or day before trip, entire fee forfeited
Regional trips: partial refunds may be given, less any expenses prepaid by OLLI
Extenuating circumstances will be handled on a case-by-case basis.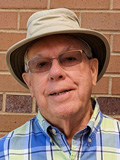 Bernie Drake
Learning Trips Chair
Committee Information
OLLI encourages member input and participation on any of its committees to help reach their goals. The Executive Board appoints a chair to head the committee; the chair reports to the board and attends all executive meetings. The chair may assume or delegate the responsibilities of the committee for a particular session. The curriculum and study groups chairs also work with the Bradley University liaison to develop balance for their respective areas.
OLLI Learning Trips originate in the Learning Trip Committee, which meets four times a year to select travel and special event options for each season. Learning Trip Committee members review recent evaluations, make travel suggestions, select trips and events for each season, and recommend policies to the Executive Committee.