Jaime Grandstaff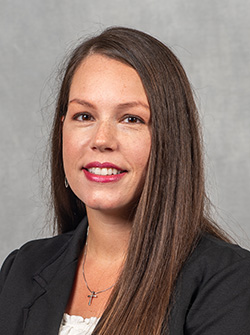 Assistant Professor, Accounting
Business and Engineering Convergence Center 2152
(309) 677-2312
jgrandstaff@fsmail.bradley.edu
D.B.A., Creighton University
M.B.A., Drake University
B.S., Drake University
Biography
Jaime Grandstaff joined the Bradley faculty in 2020. Prior to teaching, Dr. Grandstaff gained professional experience through external auditing with Ernst & Young, and internal auditing with Berkshire Hathaway Energy and the Office of the Inspector General at the Tennessee Valley Authority. She also served in a managerial role at Dickinson Law in Des Moines, Iowa as the firm's executive director of administration. Dr. Grandstaff and her husband have three sons. They enjoy playing tennis as a family and watching hockey.
Teaching
Dr. Grandstaff is passionate about the accounting profession and career planning with students. Her teaching interests are in the areas of financial accounting and internal auditing.
Scholarship
Dr. Grandstaff's research interests include the value relevance of accounting information and financial statement fraud.
Presentations
Grandstaff, J.L., & Solsma, L.L. (2019). Financial statement fraud by U.S. firms: A review from the financial crisis decade. Presented at the Drake University research colloquium (Des Moines, Iowa, February 2019) and the American Accounting Association's forensic accounting research conference (St. Louis, Missouri, March 2019).
Service
Professional Memberships- Institute of Internal Auditors, Iowa Society of CPAs, American Accounting Association, American Institute of CPAs, and Association of Certified Fraud Examiners.
Licensures and Certifications
Certified Public Accountant
Certified Internal Auditor
Certified Fraud Examiner
Certification in Risk Management Assurance
Chartered Global Management Accountant