Heather Longfellow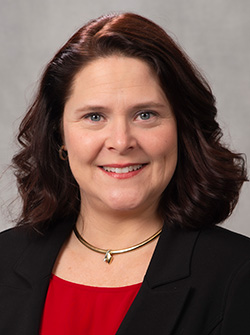 Instructor of Accounting
Business and Engineering Convergence Center 2167
(309) 677-4146
hlongfellow@bradley.edu
M.B.A. Bradley University, Peoria, Illinois
B.A. Augustana College, Rock Island, Illinois
Biography
Heather Longfellow rejoined the Bradley faculty in 2018 after having taught full-time at the university in 2013 and 2014. Heather is a licensed Certified Public Accountant who worked in public accounting for twenty years in the areas of audit, tax, and advisory services.
Heather is a Central Illinois native. After college, she moved south and started her professional career at Arthur Andersen in St. Louis. That work experience taught her much about teamwork, auditing, and professionalism. When she moved back to the Peoria area, she began working for a local accounting firm in Pekin, Illinois, Wolf/Tesar & Company. There she was able to work with many regional businesses and develop relationships with their owners and financial professionals. Her work was extensive. She prepared tax returns, performed bookkeeping services, performed payroll services, conducted audits, and performed consulting. Over time, she became a partner in the firm and worked in that capacity for nine years. She served as the audit engagement partner for the firm, specializing in small business, non-profit, and local governmental audits.
Outside of teaching and consulting, her hobbies include horseback riding, downhill skiing, and traveling. Heather is married and has two children.
Teaching
Heather's teaching interests are in the areas of audit and financial accounting. As a proud Bradley graduate, Heather is passionate about the institution and the quality of graduates it produces. Accounting is both a science and an art. Teaching the necessary technical proficiency of accounting and also the soft skills required to problem solve, communicate well, and adapt to change are her goals.
Courses Currently Teaching
ATG 157 - Financial Accounting
ATG 268 - Business Ethics
ATG 457 - Auditing
Service
Heather serves Bradley University by serving on several departmental committees and advising students. She is a member of the Illinois CPA Society. She is Treasure of Peoria North Rotary Club and volunteers her time at her church, Crossroads (Washington, IL), and various local non-profit organizations.