Wendy Beanblossom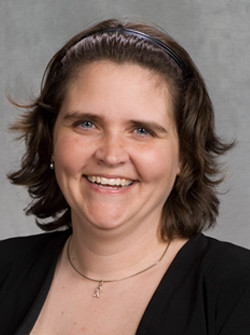 Lecturer
Olin Hall 115
(309) 677-3819
wbeanblossom@bradley.edu
M.S., Education, University of Illinois
B.S., Animal Science, University of Illinois
Biography
Mrs. Beanblossom was born in Peoria and has lived in the Peoria area most of her life. She attended the University of Illinois at Urbana-Champaign where she earned both her bachelor's and master's degrees. She and her husband have two children. In her spare time, Mrs. Beanblossom enjoys watching sports, reading, and traveling.
Teaching
Mrs. Beanblossom taught at the high school level for two years prior to beginning her collegiate teaching career. She taught at Illinois Central College from 2002 to 2007. Mrs. Beanblossom joined Bradley's Department of Biology in 2007. She currently teaches General Biology, Anatomy and Physiology laboratories, and Investigative Science for both pre-service and in-service educators.
Service
Cancer Patient Services is a passion for Mrs. Beanblossom. She is currently a member of the American Cancer Society Regional Leadership Board. She also serves as a Reach to Recovery volunteer and Patient Resource Room volunteer for the American Cancer Society. Mrs. Beanblossom is active with the American Cancer Society Relay for Life of Metamora and serves as the Faculty Advisor for the Relay for Life of Bradley University. Her passion for cancer service also extends to Susan G. Komen for the Cure as a crew member and walker for the Breast Cancer 3-Day and a Peoria Race for the Cure Team Captain. Mrs. Beanblossom's service to education includes being a member of the Citizen's Advisory Committee for Germantown Hills School District 69 and providing hands on science outreach to local k-8 students.