Andrew Eilola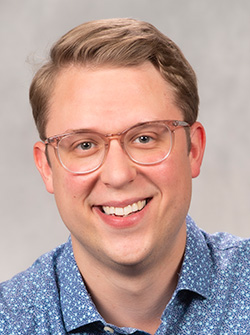 Director of Forensics
Caterpillar Global Communication Center 313
(309) 677-2439
aeilola@bradley.edu
Biography
Andrew Eilola joins Bradley as the new Director of Forensics. Andrew attended Concordia College in Moorhead, Minnesota where he received B.A.s in communication and sociology in 2012. In 2014, he earned a master's degree in health communication from George Mason University. He is currently working on his PhD dissertation where he is studying the coming out process for sexual minorities in medical settings.
Prior to Bradley, he served as the Assistant Director and Interim Director of Forensics at George Mason University. At GMU, he coached 11 national finalists in persuasive speaking since 2014, including two national champions. While he loves persuasion, he also enjoys teaching speech writing, delivery, and dramatic performance.
Andrew grew up in Northern Minnesota and is excited to return to his Midwest roots! He is passionate about making forensics and the classroom a more equitable and accessible space for all students. He'll be teaching COMM 103: The Oral Communication Process this fall.