Vladimir Uskov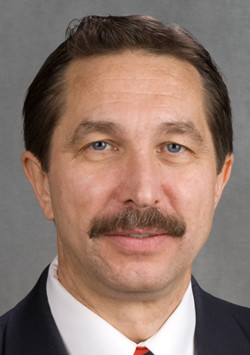 Professor and co-director, InterLabs Research Institute
Bradley Hall 193
(309) 677-2461
uskov@bradley.edu
Ph.D., Computer Science and Informatics, Moscow Aviation Institute (State University of Aerospace Technology), Moscow, Russia
M.S.., Computer Science and Informatics, Moscow Aviation Institute (State University of Aerospace Technology), Moscow, Russia
Biography
Prior to joining the department in 2000, Dr. V. Uskov worked as 1) associate professor of information technology at University of Cincinnati, OH, 2) visiting scholar and visiting professor of computer science at Michigan State University, MI, 3) assistant professor and associate professor of computer aided design systems at Moscow State Technical University, and 4) visiting professor in various universities of Japan, Italy, The Netherlands, Germany, France and Switzerland.
Teaching
Dr. V. Uskov teaches the following courses:
CS 390 Introduction to Software Engineering
CS 590 Fundamentals of Software Engineering
CS 591 Software Project Management
CS 593 Software Engineering of Web-Based Applications
CS 690 Advanced Topics in Software Engineering
CIS 300 Computers and Society
CIS 475/575 Computer Information Systems Analysis, Design, and Integration
Scholarship
Dr. V. Uskov has more than 300 professional publications. His current research focuses on 1) software engineering of Web applications, 2) Web technologies and applications for ubiquitous/mobile learning, 3) software project and software quality management (SPM, PMP, CMMI, Six Sigma, TQM). He received grants
Dr. Uskov was a keynote/invited presenter at international conferences in the U.S.A., Japan, Germany, Switzerland, Norway, Russia, Poland, Taiwan, Latvia, Turkey, and Jamaica.
Dr. V. Uskov is the IEEE Senior Member, a member of the Executive Board of the IEEE Technical Committee on Learning Technology (TCLT), and chair of two annual international conferences – a) Computers and Advanced Technology in Education (CATE), and 2) Web-Based Education (WBE). He also is an editorial board member of several international journals. In addition, he is a co-director of the InterLabs Research Institute at Bradley University.
Service
Dr. V. Uskov is a chair of the department curriculum committee.