Adam Byerly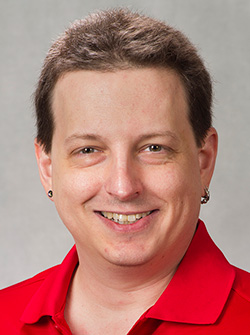 Lecturer
Bradley Hall 183
(309) 677-2462
abyerly@bradley.edu
M.S., Computer Science, Bradley University
B.S., Religious Studies Major, Fine Arts Minor, Bradley University
Biography
Adam is a Lecturer in the Computer Science and Information Systems department at Bradley University. Before joining Bradley, Adam accumulated over 20 years of software engineering and architecture experience in various industries including marketing, financial, insurance, and manufacturing.
Teaching
Adam's teaching is focused on introductory programming and database courses. Courses Adam currently teaches or has recently taught include:
CS 101 - Introduction to Programming
CS 102 - Data Structures
CS 370 - Database Management Systems
CS 571 - Database Management Systems
CIS 576 - Data Management
Scholarship
Adam's research interests are in artificial intelligence with a focus on biologically inspired algorithms and machine learning. Adam has several publications related to genetic algorithms and ant colony optimization and is currently studying at Brunel University in London where his focus for his doctoral studies is convolutional neural networks for computer vision.
Service
Adam's service to the University and department include giving talks on AI and lab and server maintenance.
Adam's outside interests include metal music performance and production as a guitarist, drummer, and vocalist. Additionally, Adam is actively involved in student gaming clubs for Magic the Gathering and Pokémon Go.