Rafeeq Al Hashemi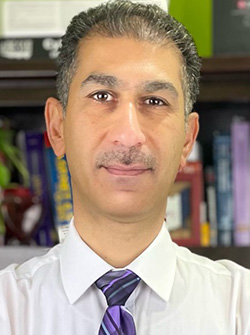 Biography
Dr. Rafeeq Al-Hashemi is a visiting professor of computer science at Bradley University. He holds BSc, MSc, and Ph.D. degrees in Computer Science. He is also certified in Cisco Networking, and Security+.
Al-Hashemi's passion is teaching and researching. He has twenty years' experience in the classroom, instructing a wide variety of computer science subjects.
Al-Hashemi has supervised computer science undergraduate and graduate students and reviewer in several Journals.
Al-Hashemi strives to remain up to date on cutting-edge software and hardware technology. He diligently maintains his certifications and, as often as feasible, attends conferences, seminars, and professional development workshops.
Dr. Al-Hashemi, who is a senior member of Institute of Electrical and Electronics Engineers (IEEE), has published many well-received research papers in notable peer-reviewed journals.
Teaching
CS 102 - Data Structures
CS 502 - Advance Computer Programming,
CIS 576 - Data Management
Courses taught outside Bradley University
Data Mining
Java programming
C++ Programming
C# Programming
Secure Software development
Python Programming
Artificial Intelligence
Software Project Management
CISCO Networking
Scholarship
Dr. Rafeeq Al-Hashemi research of interest :
Data Mining, Text Mining, Image Processing, Artificial Intelligence, and Cyber Security. Al-Hashemi has published many research papers in several journals and conferences proceedings in computer science field.