Scott Williams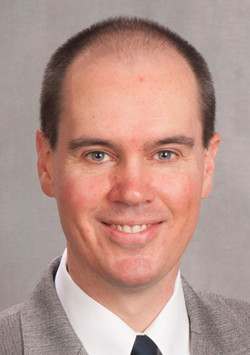 Associate Chair and Lecturer
Bradley Hall 173
(309) 677-3599
jswilliams@bradley.edu
M.S., Computer Science, Bradley University
J.D., Law, Duke University School of Law
B.A., German, Swarthmore College
Biography
Mr. Williams joined Bradley University in 2018 as a Lecturer in the Department of Computer Science and Information Systems. Prior to joining the faculty, he held several positions in the private sector and government service, in both active-duty and civilian capacities. Mr. Williams was honored with the Bradley University First Year Faculty Award in 2019.
Teaching
Mr. Williams focuses his teaching on courses in programming and cryptography. He has also taught undergraduate and graduate courses in law, ethics and technology, which challenge students to engage with complex issues of morality and professional responsibility raised by the intersection of computer science, law and ethics. Mr. Williams has taught the following courses at Bradley:
CS 101 – Introduction to Programming
CS 102 – Data Structures
CS 140 – Advanced Programming Concepts and Languages
CIS 415/515 – Applied Cryptography
CS 480 – Social and Professional Issues in Computing
CS 490/491 – Senior Capstone
CS 498/CIS 498 – Directed Individual Studies (undergraduate)
CS 502 – Advanced Programming
CIS 580 – Digital Society and Computer Law
CS 698/CIS 698 – Directed Individual Studies (graduate)
Scholarship
Mr. Williams is interested in programming, cryptography and embedded systems. He also explores issues of ethics from legal, social and technological perspectives.
Service
In addition to his service on a variety of committees and initiatives at Bradley, Mr. Williams has served as Associate Chair of the CS and IS department, graduate program coordinator for on-campus CS and CIS programs, faculty advisor for multiple student organizations, and academic advisor to undergraduate and graduate students. He is also a member of the Illinois State Bar Association.