Erik Dalmasso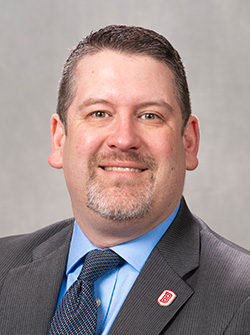 Doctor of Education - Higher Education Administration Program Director, Assistant Professor in Residence
Westlake Hall 342
(309) 677-3175
edalmasso2@bradley.edu
Ph.D. – Higher Education Administration, Illinois State University
M.S. – College Student Personnel Administration, Illinois State University
B.S. – Communication Education, Illinois State University
Biography
Dr. Dalmasso's work in higher education stems from Enrollment Management, both at the undergraduate and graduate levels of various institutions in the state of Illinois. His professional journey in higher education started as an admissions counselor at the University of Illinois. After several years of learning the recruitment piece of enrollment management, he followed the familiar path to associate director of admission at Monmouth College. Dr. Dalmasso's enrollment management path continued at Western Illinois University as director of undergraduate recruitment. He was fortunate enough to be directly involved in strategic planning, marketing and communications, recruitment planning and leadership development. In 2018, Dr. Dalmasso joined the Graduate School staff at Bradley University as the director of graduate marketing and recruitment. While on staff, he also served as an adjunct instructor in the Ed.D. Higher Education Administration program. In January, 2022, Dr. Dalmasso joined the College of Education and Health Sciences as an assistant professor and program director of the Higher Education Administration Ed.D. program.
Teaching
Dr. Dalmasso currently teaches courses within the Higher Education Administration concentration as a part of the broader Doctor of Education online program at Bradley University. His teaching is focused on community college education, leadership and administration function. He is also focused on course development for the Ed.D. programs.
Scholarship
Dr. Dalmasso is deeply i
nterested in post
-
secondary pathways for rural students. Because
of this interest, he is deeply focused on access to higher education, community college leadership and mission. Dr. Dalmasso is also passionate about professional development within the academy, specifically, promoting the work of higher education professionals who seek to better opportunities for students.
Service
Over the course of his higher education career, Dr. Dalmasso has spoken at the local and state level about enrollment management trends, post-secondary barriers, community college alignment and transfer pathways and the importance of early post-secondary planning for disadvantaged students.
Licensures and Certifications
Illinois Professional Educator License