Lori Russell-Chapin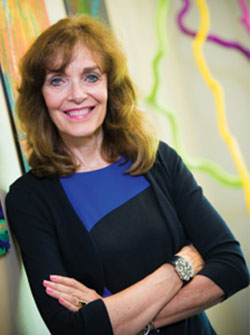 Co-Director for the Center for Collaborative Brain Research, Professor
Westlake Hall 336
(309) 677-3186
lar@bradley.edu
Ph.D., Counselor Education from the University of Wyoming
M.S. Counseling Education - Eastern Montana College
B.S. Psychology and Teaching - University of Wyoming
Biography
I am a tenure track Full Professor in the Department of Education, Counseling and Leadership at Bradley University in Peoria, Illinois. I also codirector for the Center for Collaborative Brain Research (CCBR), a partnership among OSF Saint Francis Medical Center and the Illinois Neurological Institute, and was awarded the American Mental Health Counseling Association's (AMHCA) Counselor Educator of the Year, American Counseling Association (ACA) Trailblazer Award for Neurocounseling and the distinction of an ACA Fellow.
I truly enjoy teaching all of our graduate courses, but some of my favorites are Neurocounseling; Brain-based Approaches; Crisis Intervention and Grief and Loss. Each of these are taught from a neurocounseling perspective that bridges the brain to behaviors.
Professional Experience
Professor-Bradley University Peoria, Illinois (2000-present)
Co-director of the Center for Collaborative Brain Research (2010-present)
Associate Dean and Graduate Studies Coordinator Bradley-College of Education & Health Sciences (2004-2016)
Chairperson- Department of Educational, Counseling and Leadership-Bradley University (1989-2000)
Associate Professor (1994)
Assistant Professor and Coordinator-Bradley University, Human Development Counseling (1987-1993)
Chapin & Russell Associates-Peoria, IL (1987-present)
Scholarship
Honors-27 Awards since 1994
Current/Selected Honors:
2020 American Counseling Association Fellow
2020 Women in Leadership Award/WMBD Peoria
2018 Joan L. Sattler EHS Teaching Award for the College of Education and Health Sciences
2017 American Counseling Association Garry R. Walz Trailblazer Award
2013 Illinois Counselor Educators & Supervisors Counselor Educator of the Year
2013 National AMHCA Linda Seligman Outstanding Counselor Educator for the Year
2012 Samuel Rothberg Award for Excellence in Research-Bradley University
2010 Thelma Duffy National Creativity in Counseling Award
1994 Putnam Award for Outstanding Teaching-Bradley University
Consultant/Presenter- over 320 presentations(selected)
North America: Keynotes and workshops at numerous organizations such as ACA, ACES, ACPA, ISNR, AMHCA, ICA with topics such as neurocounseling, emotional safety and physiological self-regulation, understanding diversity, integrating neurocounseling into clinical supervision, using neurofeedback and QEEGs in counseling.
The Need for Social Engagement in This New COVID Era: How Intentionality and Neurocounseling strengthen the Active Listening Process. Mind Media/Coherentdigital, July, 2020, online, https://coherentdigital.net/events
The Neuro-informed Clinical Supervisor. ACES, October, 2019, Seattle, WA
Neurofeedback: Theta/Alpha/Gamma Synchrony Training. ISNR, September, 2019, Denver, CO
The importance of visually inspecting raw EEG data. ISNR. September, 2018, Glendale, AZ
Trauma and the Uses of Neurocounseling. ACA March, 2018, Atlanta, GA
International: Workshops at E-ACA, International Educational Exchange and International Higher Education in France, Italy, Germany, Japan, Greece, England, Switzerland and Mexico on topics such as clinical supervision, neurocounseling and diversity
Visiting Professor to Universidad Iberoamerican, Mexico City, Mexico, February 17-27, 2016. Taught a two-semester hour graduate course on neurocounseling to graduate psychology students.
The Use of Activating Events: Teaching Diversity, Rhodes, Greece, July 2005
Moving to the Future: Innovations in Counselor Field Experience and Supervision, May, 2002, London, England.
Business: Presentations at hospitals, medical schools, banks, universities, Caterpillar, Inc., chemical and manufacturing companies on issues such as diversity, conflict resolution, communications and brain health.
Brain health. Peoria Speech and Hearing Association, Peoria, February, 2019.
Understanding Diversity CEFCU-credit union, Peoria, March 2005.
Keynote speaker on Conflict for American Council on Education for Women Leaders I in Higher Education, Chicago, April, 2000.
Publications-12 books published; one in two languages; 61 articles-26 referred; 7 book chapters;14 creative productions
Current books:
Russell-Chapin, L.A., Pacheco, N. & DeFord, J. (2021). (Eds.). Practical neurocounseling:
Connecting brain functions to real therapy interventions. Routledge.
Russell-Chapin, L.A. & Chapin, T. (2020). Integrating neuroounseling in clinical supervision:
Strategies for success. Routledge.
Fields, T., Jones, L. & Russell-Chapin, L. (2017). (Eds). Neurocounseling: Brain-based clinical
approaches. American Counseling Association.
Russell-Chapin, L., Sherman, N. & Ivey, A. (2016). Your supervised practicum and internship: Field
resources turning theory into action. (2nd ed.) Routledge.
Current online articles: Selected
Healthline, August, 2019
What You Need to Know about Smoking and your Brain
https://www.healthline.com/health/smoking/smoking-effects-on-brain#nicotine-effects
The Neuropsychotherapist, June, 2019
Where and Now?
https://www.thescienceofpsychology.com/the-neuropsychotherapist-volume-7-issue-6/
International Business Times, May, 2019
Rethinking Suicide: How Traumatic Brain Injuries Contribute
https://www.medicaldaily.com/rethinking-suicide-how-traumatic-brain-injuries-contribute-2794245
Medical Daily, March, 2019
Rethinking Suicide: How Traumatic Brain Injuries Contribute
https://www.medicaldaily.com/rethinking-suicide-how-traumatic-brain-injuries-contribute-435362
Fatherly, January, 2019
Turn a Stubborn Toddler into a Helper with These Magic Words.
https://www.fatherly.com/love-money/make-stubborn-toddler/
The Neuropsychotherapist, online magazine, January, 2018 Australia
Seasonal Affective Disorder: SAD, Dr. Lori Ann Russell Chapin in conversation with Richard Hill
https://www.neuropsychotherapist/seasonal-affective-disorder-sad/
(need a password to access)
Current magazine articles:
Russell-Chapin, L. & Chapin, T. (2019). The neuro-informed clinical supervisor. December, Counseling Today, American Counseling Association.
Current Book Chapters:
Russell-Chapin, L. & Chapin, T. (2021). Voices from the field: Neuro-informed clinical supervision.
In Corey, C., Haynes, R., Moulton, P. & Muratori. Clinical supervision in the helping
professions: A practical guide. American Counseling Association.
Russell-Chapin, L.A. (2020). Basic concepts of neuroscience in counseling and counselor education.
In M.O. Adekson (Ed). The Handbook of Counseling and Counselor Education. New York, NY:
Routledge.
Russell-Chapin, L.A. & Chapin, T. (2019). Neuroscience and the brain: What mental health counselors
need to know. In J.C. Watson & M.K. Schmit (Eds). Introduction to Clinical Mental Health
Counselors: Contemporary Issues (305-335), Thousand Oaks, CA: Sage.
https://us.sagepub.com/en-us/nam/introduction-to-clinical-mental-health-counseling/book248167
Licensures and Certifications
Board Certified in Neurofeedback
Diplomate – Clinical Mental Health Specialist in Trauma Counseling
Licensed Clinical Professional Counselor-IL
National Certified Clinical Mental Health Counselor
National Certified Counselor
NBCC Approved Clinical Supervisor
Family Mediator
Rational Emotive Therapy Certificate
Child Development Associate; Education Specialist-WY
School Psychologist-IL
School Counselor-WY