Nancy Sherman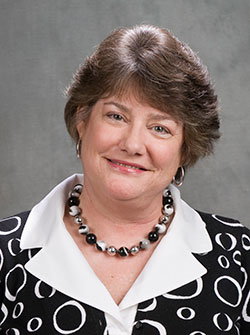 Counseling Program Director, Professor
Westlake Hall 337
(309) 677-3316
nes@bradley.edu
Ph.D., Counselor Education from The Ohio State University
M.A., College Student Personnel from Bowling Green State University
B.A., English from The State University of New York at Oswego
Biography
Dr. Nancy E. Sherman is a professor in the Department of Leadership in Education, Nonprofits and Counseling. She is currently the Clinical Coordinator for the Counseling program. Prior to joining the department in 1992, Dr. Sherman held positions as a professional counselor at Denison University, The Women's Tri-County Help Center, Inc., CompDrug, Inc., and in private practice. Her APA-approved doctoral internship in psychology was completed at the Northeastern Ohio Universities College of Medicine. Dr. Sherman was recently awarded her third Fulbright Award to teach counseling courses at the Immanuel Kant Federal Baltic University in Kaliningrad, Russia. Her second Fulbright in 2008 was a Lecturing/Research award to teach career counseling at the University of Oradea in Oradea, Romania, and to conduct research on the vocational identity of Romanian University students. Her first Fulbright Award was for teaching at the Higher School of Social Work and Social Pedagogy "Attistiba" in Riga, Latvia, in 2001.
Teaching
ENC 690: Practicum. My favorite courses are those that teach or supervise clinical skills in counseling such as Practicum, Internship, and Pre-practicum- basic counseling skill development.
Scholarship
3rd Edition of "Your Supervised Practicum and Internship: Field Resources for Turning Theory Into Practice" co-authored with Dr. Lori Russell-Chapin, Dr. Ted Chapin and Dr. Allen Ivey to be published in 2023.
Three Fulbright Scholar Awards to Latvia, Romania and Russia.
Service
I am Chair of the Human Rights Review Board for EP!C- an agency supporting Adults with Intellectual Disabilities in Peoria.
I serve as Program Director for Counseling programs.
Licensures and Certifications
Licensed Clinical Professional Counselor (LCPC) (IL)
National Certified Counselor
Approved Clinical Supervisor